Frequently Asked Questions
Frequently Asked Questions
Where is the Festival and the Address?
The Festival will be held at the Military Park. Address: 601 W New York St, Indianapolis, IN 46202.
What time does the event start?
The Festival starts at 11:00 AM on Saturday, June 10, 2023.
Will tickets be sold at the event?
Yes. Tickets will be sold at the event. On Saturday, tickets will be payable in cash or credit card. There are no ticket refunds.
What should I do in the event of an emergency?
Please go to HERE.
Lost and Found
On Saturday 06/10, Lost & Found will be operating from the info booth located by the main entrance between 11 am – 11 pm. Guests can view and/or claim items directly.
Lost a family member?
If the missing party member is age 17 or younger, we will inform Festival staff and security, and make announcements from the main stage. If a party member is 18 or older, we can inform Festival staff to keep an eye out and can encourage party members to wait to meet in our Information Booth.
How will I know where everything is?
A festival map will be provided at the information booth, please utilize this for location-based questions. You can also go HERE to see the map information.
Are there Family friendly resources for families?
Encourage folks to explore the community area, lots of different resource groups and community vendors will be located in this area.
Is there an age limit?
Nope, all ages are welcome.
Are kids free?
Children 5 and under can receive free General Admission and must be accompanied by a ticketed adult.
Will there be food and water available during the event?
Food, water, and other beverages will be sold at the event, and we encourage folks to visit them. The food vendors serve a variety of foods such as hot dogs, vegan dishes, lemonade, etc. We will also have hydration stations with free water throughout the festival grounds.
Will there be additional restrooms available at the event?
Yes, we will have additional portable restroom facilities brought in for the event. They will be located throughout the festival grounds.
Can I bring a pet to the Festival?
For the enjoyment and safety of all attendees (and pets), we ask that you leave your pets at home during the festival.
Are there any items that I cannot bring to the event?
Weapons of any kind and illegal substances are strictly prohibited from being brought to the event. Click HERE to read our clear bag policy.
Will there be alcohol served at the event?
Yes, beer, wine, and liquor can be purchased during the event.
Can I bring a lawn chair and/or blanket to the stage areas?
Yes, you are welcome to lawn chairs and blankets to the Festival.
Will there be non‐food vendors at the event?
Yes. There will be arts and crafts as well as public service vendors.
What is the COVID policy?
Indy Pride is dedicated to the health and safety of our community, staff, volunteers and entertainers. If you are feeling sick, please stay home. Masks and vaccination cards are not required for outdoor events.
Are cameras permitted at the event?
Yes, and we encourage you to snap photos and share them via Instagram, Facebook, and Twitter. Use #Indypride #IndyPride2023
Please note that camera bags will not be allowed at the Festival grounds. All bags must adhere to our clear bag policy.
Will you have ASL Interpreters?
Yes, there will be at least one in every stage and one in the information booth.
Which artists are performing?
Schedules are printed on large truss structures through the Festival grounds or visit indypride.org for the most updated list of artists and times.
How much are the tickets?
General admission tickets are $10.
Can I bring a Fanny Pack?
Yes! Please note, if your fanny pack is larger than 4.5″x6.5″ it will have to be clear. If your fanny pack is 4.5″x6.5″ or smaller, it does not have to be clear.
Any bag larger than 12"x6"x12" will not be allowed into the festival.
What is the re-entry policy?
Re-entry will be permitted. You must get a wristband at the exit.
Is there a phone charging station?
No
Will there be lockers on-site?
Not this year. We encourage everyone to travel lightly if they can.
Where is the volunteer check-in?
Volunteer check-in is located near the RV located just south of the pavilion in the park.
Is there a First Aid / Medic on-site?
Of course! First Aid tents will be onsite staffed with Paramedics. Please ask any of our volunteers/staff and they will point you in the right direction. Here is some other important safety info to note:
Drink plenty of water to stay hydrated.
Take a picture of your Driver's License and keep on your phone for ID purposes.
Where can I park?
We have partnered with Gate 10. Please look at their parking options by going HERE
Is there a Drop-off spot?
Vermont Street and Blackford Street will be used for ride-share drop-off and pick-ups for rideshare, Gate 10 shuttle. Parents and family members can drop off and pick up people here if they wish.
What does your accessibility look like?
The festival strives to be inclusive and accessible to all attendees. Accessible parking, restrooms, and viewing areas will be available. wheelchair accessible entrance will be available in front of accessible parking and next to the food vendors.
Accessible parking, drop-off, and pick-up location:
We have designated a specific parking location for accessibility purposes, indicated on the graphic below. The accessible parking area is located between Vermont Street and Blackford Street.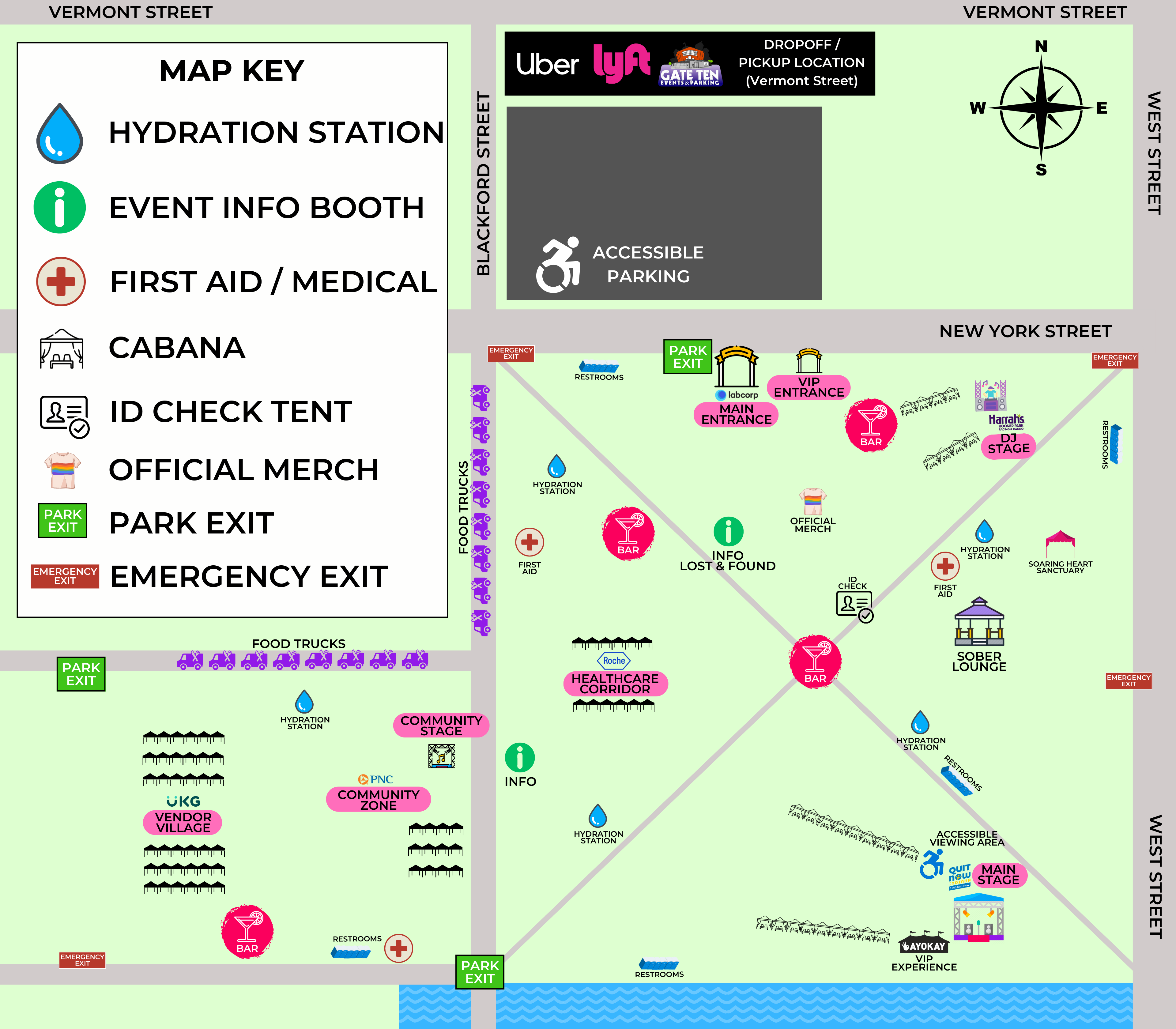 Stay Hydrated:
It is vital to drink plenty of water throughout the event. Stay hydrated and be safe!
Water Stations:
Bottled water will also be available for purchase at all concession areas.
Can I smoke at the Festival?
No smoking is allowed on Festival grounds. If you'd like to smoke, please obtain a pass-out wristband at the exits and smoke outside the event grounds.