Planning a watch party for the Indy Pride 2021 Virtual Festival Presented by Salesforce?
 ?️‍? We've got some watch party #ProTips for you! ?️‍?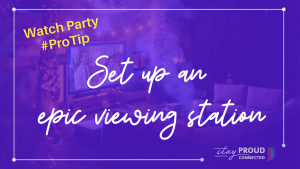 Set up an epic viewing station
The Virtual Festival will be ? streaming entertainment and interviews to IndyPride.org/Live on ? Saturday, June 12th beginning at 12 p.m. and rolling into the evening! 
? Be sure to find a large computer monitor, set up your screencast to the television, and/or connect your computer to an outdoor projector with a sheet for a screen.
Setting up additional chairs and places to sit (pillows and blankets can help!) will also ensure everyone can watch with utmost comfort.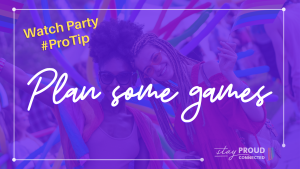 Plan some games
To keep the party going, organizing some games could be a good option!
? Some fun activity ideas that you could likely make at home or order online are…
 – Pin the horn on the unicorn 
 – Try your hand at face (or body) painting
 – Build a photo op station with prideful props and signs
 – Host a runway walk contest with your friends
 – Check out the programming schedules on the interactive virtual festival map at IndyPride.org/Indy-Pride-Festival/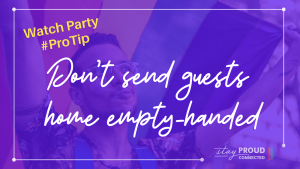 Don't send guests home empty-handed
Give your guests a little party favor to take home as a piece of remembrance and a thank you for attending. 
Might we suggest finding a way for guests to create their own personalized Pride flag? 
Or maybe some stickers or sunnies from our 2021 Stay Proud. Stay Connected. collection? 
? Shop at UnitedStateOfIndiana.com/Collections/Stay-Proud-Stay-Connected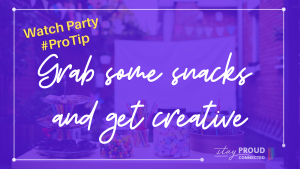 Grab some snacks and get creative
? Nothing brings people together like food! There are multiple fun directions you can go with food options for watch parties….
 – Cupcakes with rainbow-colored cake and rainbow sprinkles
 – Rainbow Jello snacks (add some Tito's or Bacardi for your adult-beverage-enjoying guests)
 – A colorful fruit plate — Can you get all the colors in there? 
 – Order personalized orders for your guests from ClusterTruck. ? Apply the code INDY-PRIDE at checkout and 30% of the proceeds will directly benefit Indy Pride!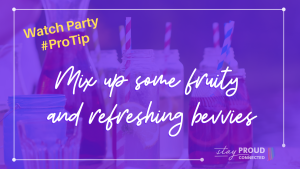 Mix up some fruity and refreshing bevvies
? Stock up on ingredients for some fun mocktails and cocktails and create a beverage bar for guests to choose their own adventure.
Here are some ingredient ideas:
– Soda water—Try fun flavors for all types of drinkers to enjoy!
– Fruit juices—Common bar staples are cranberry, orange juice, pineapple juice, and lime juice (or sweet and sour).
– Fun garnishes like fresh fruit, little umbrellas, or mini Pride flags.
– Consider our partners for your liquor options—1800 Tequila, Bacardi, Jack Daniels, Tito's Handmade Vodka, and Bud Light Seltzer.
Don't forget to tune in to IndyPride.org/Live beginning at 12 p.m. this Saturday, June 12th!