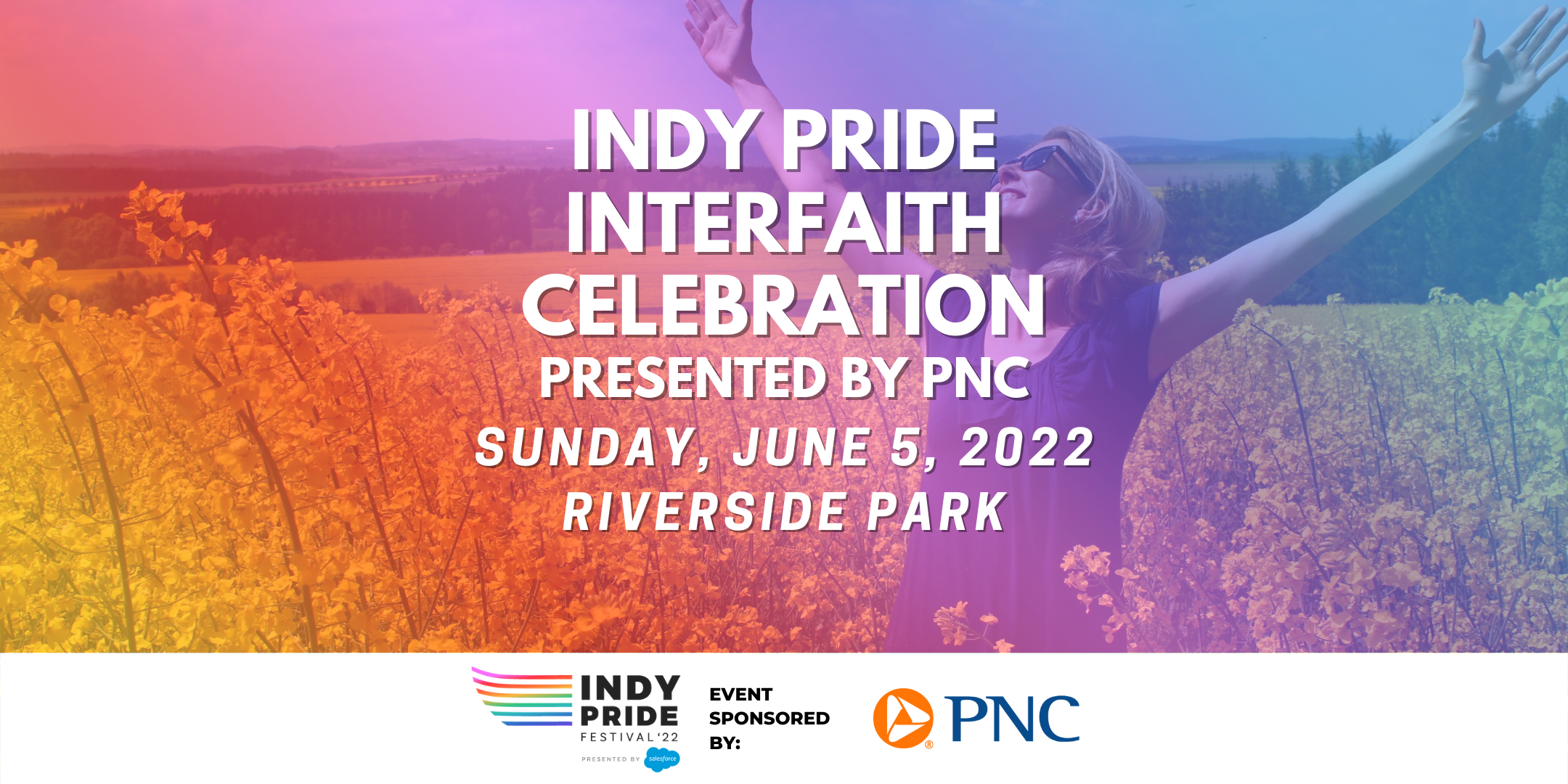 Indy Pride Interfaith Celebration presented by PNC
Riverside Park
June 5, 2022
10:00 am - 11:00 am
For this year's Interfaith Celebration presented by PNC, we will hold space for all LGBTQ+ folks of all faiths to celebrate the journey of our current or former faith tradition.
We acknowledge that the queer community has had to navigate religion in unique ways, often with great pain due to the negligence or abuse of religious organizations, leaders, and their followers. Sometimes this means we keep some aspects of our faith and leave others behind. We also acknowledge that given the many shared hurtful experiences in religious settings, faith itself can be stigmatized within the queer community. This can create a sense of isolation among those who cling to aspects of their faith. Part of the LGBTQ+ heritage, however, is coming together to find strength.
Please join us for a time of sharing and listening to each other's journeys through faith. Part of our time will include creating a communal altar, an accepting space where we place meaningful, sacred objects that have helped us stay connected to the divine, the community and ourselves. Think, Queer Faith Show and Tell!
You may opt to simply observe, or you may place an object on the altar for others to see. You might also choose to share briefly or offer a prayer from your tradition with those gathered. You might want to have conversations with only a few folks who've gathered, learning about their object, and telling them about yours.
Acknowledging that there are a number of reasons why it may not be safe for members of our community to show up to the event, we can also share your object or story by proxy. To do so, or if you have other questions, please email the event chair, Nick Brown, at [email protected].
This is a safe space for those of all faiths and spiritualities. Please arrive with an open mind, open heart, and sense of curiosity. We are so much more together than we are alone.
🎟  This event is absolutely free to attend! Use this link to get the details on your calendar and to receive helpful information about the event. We look forward to seeing you there!
A special THANK YOU to our event sponsors:
Presenting Sponsor
Indy Pride is teaming up with QUIT NOW INDIANA to encourage healthy lifestyles for all members of our community with all Pride events being tobacco-free. For support and resources to quit tobacco, visit them at quitnowindiana.com or call 1-800-QUIT NOW.
———
We are actively monitoring COVID-19 developments and will continue to do so throughout the coming months. With help from local health officials and our own Health Advisory Committee, Indy Pride will make final determinations on all health protocols closer to each of our planned events.
Get Tickets
Other Events You May Like