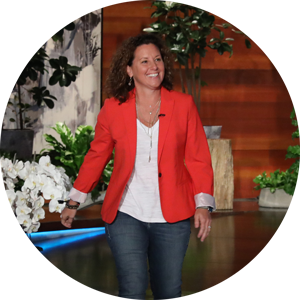 Shelly Fitzgerald was employed for 15 years as the Co-Director of Guidance at an Indianapolis Catholic School.  The school was not just the place where she worked as she was also an alumnus of the school and an integral part of the community.
In 2018, she was called into a meeting with school administrators, where her marriage to her wife, Victoria, was the topic of conversation.  The Archdiocese of Indianapolis stated her marriage was a violation of her contract and she had a few options:  dissolve her marriage, resign, or keep quiet and work the rest of the school year without receiving a renewal of her contract. Rather than offer her resignation, Shelly chose to fight. In doing so, she chose not to fight for just herself, but for all people who face discrimination. Her fight has gained attention on a national level.  She has become a voice for the disenfranchised and for people treated unjustly simply because of their sexual orientation.
After being placed on administrative leave, several of her students founded the "Shelly's Voice Advocacy Group," a non-profit organization whose mission is to inspire a deeper sense of belonging for LGBTQ+ individuals.  Shelly and the students of Shelly's Voice appeared on the Ellen DeGeneres show wherein Ellen gifted the group $25,000 to continue working towards their goals.
Shelly, and the students of Shelly's Voice, have become a beacon of hope shining light on the unequal treatment of LGBTQ+ individuals in our schools, the workplace and our community at large.