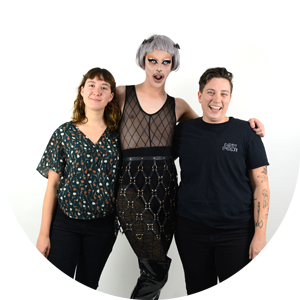 Low Pone is a DIY monthly queer event consisting of local, regional, national, and international drag and performance art. It is  held on the first Saturday of the month in the heart of Fountain Square in central Indianapolis. Low Pone was born from a need — for radical inclusion and celebration in the LGBTQ+ community of Indy. Over the past two years it's become the highest attended LGBTQ show in the state outside of pride based events, and has launched 3 other LGTBQ+ projects including Minor Sweat, Crashing through the Front Door, and BUZZ/cut queer music festival.
Minor Sweat is an all-ages queer performance night, currently held at Hoy Polloy art gallery on Indy's near east side. Minor Sweat brings in young adults from all over the state as it's audience and performers, to convene with other youth and develop relationships that they may not have organically been able to foster. Minor Sweat's ultimate goal is to provide youth programming in the arts, music, and performance and is currently working to build out this programming, while remaining volunteer based.
Crashing Through the Front Door is a contemporary archive of queer life in the Midwest. A project aimed at focusing on the triumphs and beauty of our community using photography with short and long form interviews to tell our story. Crashing has resulted in a published book, gallery show at Tube Factory artspace by Big Car, and permanent space in the LGBTQ+ archives of the Indiana Historical Society.
BUZZ/cut is the first queer music festival in the state. Taking place in September, 2019, the festival is bringing in queer musicians and artists from around the country over one day in Fountain Square. Look for two stages with up to 20 bands, multiple queer vendors, and local food and drinks at this all ages event to be announced in mid to late march. The funds raised from BUZZ/cut will go back into launching Minor Sweat's programming and continuing the impact Low Pone makes every month in the queer community of Indianapolis.