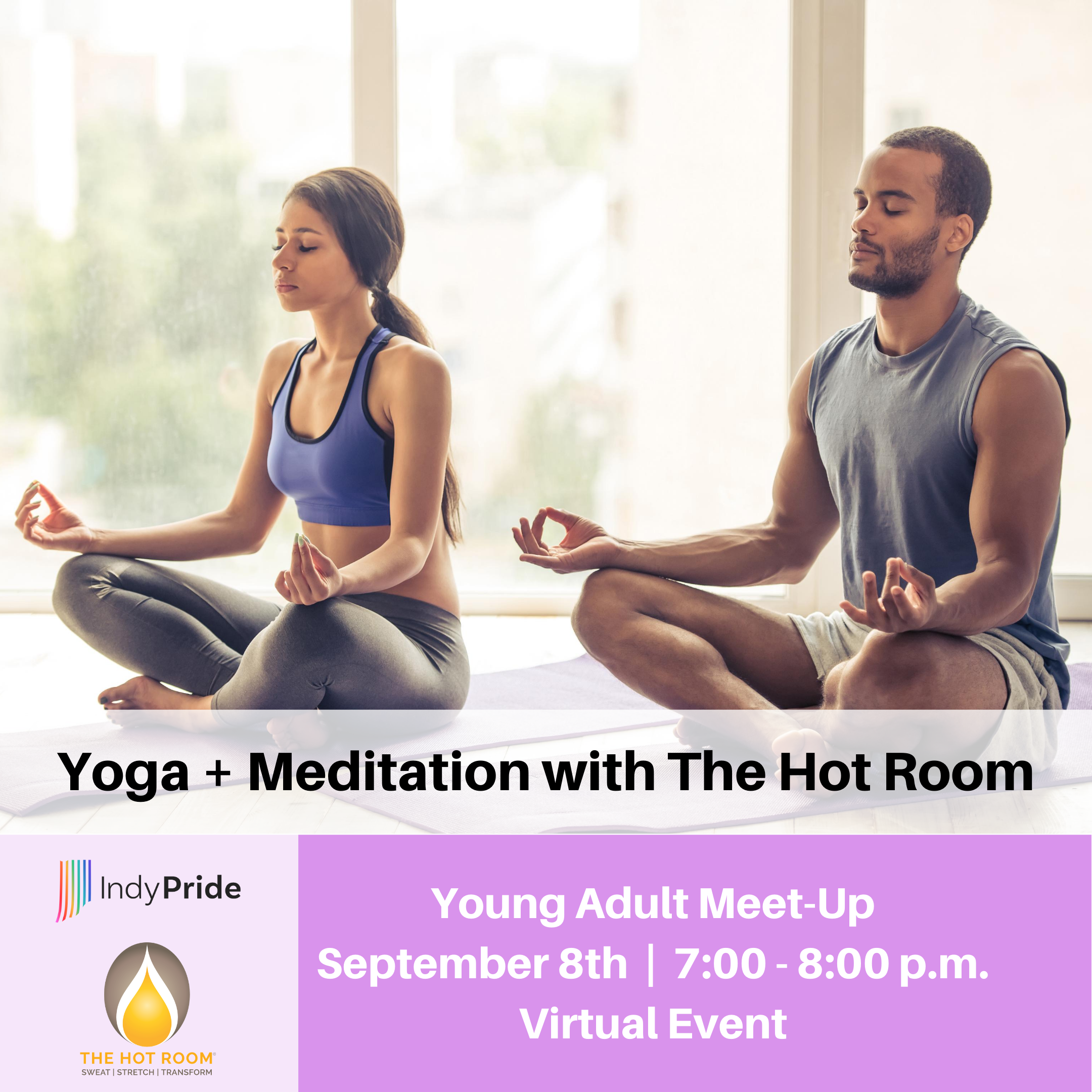 Young Adult Meet-Up: Yoga + Meditation with The Hot Room
Virtual Event
September 8, 2020
7:00 pm - 8:00 pm
?‍♀️ Indy Pride has partnered with The Hot Room ? to offer a beginners Yoga + Meditation class to our YAMU community. Whether you are a yogi master or just a curious about the practice of yoga, we invite you to spend time with us on September 9th from 7-8 p.m. for this #SelfCare event.
? The class will be taught by David Suarez (he/his). David fell in love w/ the practice of yoga 30 years ago, and has been teaching/leading for the last 6. He has had the most amazing journey, guest teaching and facilitating workshops throughout the United States and Internationally. His favorite assignments are those that pair him with organizations like Indy Pride, who exist in celebration of inclusivity and equality. ?️‍?
? Click the "Get Tickets" button to receive the link to the online event and click this link to register for the yoga class and sign the yoga studio's waiver.
Once you sign-up with the tickets button, you will be set to receive the access link to the class a few hours before the event.
You will need a laptop, desktop, or smartphone device to access the class. Be sure to gather your yoga mat or towel, and some water to stay hydrated.
? If you would like to request an ASL interpreter for this event, please email [email protected]
?️‍? About Indy Pride Young Adult Meet-Up (YAMU)
YAMU is a space created for young adults (20-30 somethings) to build community in a substance free environment. YAMU hosts events every 2nd Tuesday of the month for young adults to enjoy new experiences and meet new people. If you are interested in joining the YAMU listserv, please email [email protected]
Indy Pride supports healthy lifestyle choices and resources for our community members. If you or someone you know would like support or resources to quit tobacco, visit our friends at www.quitnowindiana.com or call their hotline at 1-800-QUIT-NOW.
Get Tickets
Other Events You May Like