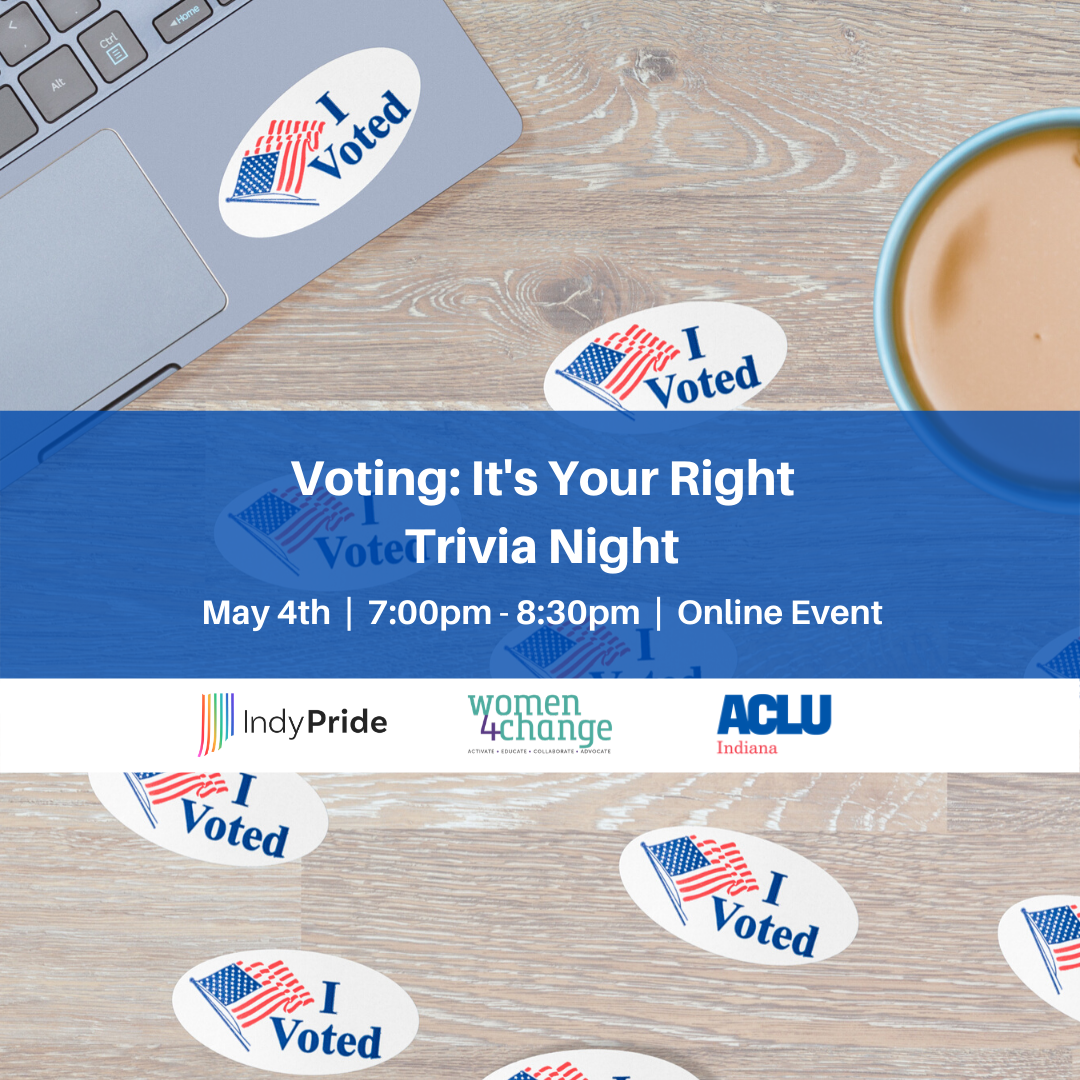 Voting: It's Your Right Trivia Night
Virtual Event
May 4, 2020
7:00 pm - 8:30 pm
Indy Pride, ACLU Indiana, and Women4Change have teamed up to Get Out the Vote in our community.
It's almost time for the Indiana Primary Election! Before you flex your voting muscle, put your knowledge to the test. Think you know your rights when it comes to voting? Prove it! Invite your friends and select a team of 4 to play in our online trivia night.
?Test Your Knowledge on…
Who Can Vote?
How Do I Vote?
History of Voting Laws
LGBTQ+ Voters Rights
Women's Suffrage
Common Misconceptions About Voting Restrictions
The team with the highest score will be our Grand Prize Winners. Each winning team member will receive a free ticket to the Indy Pride Festival!
? Sign up today: Each participant must RSVP using the "Tickets" button to receive the trivia night instructions and Zoom link to participate. The person who registers will select the team name. Indy Pride Program Director, Tabitha Barbour, will reach out to you directly for the rest of the information for your team.
Grab a drink, snacks, and game on!
Here's a couple of things you can do before or after our trivia night
Check out more information on how to register to vote in Indiana or to check your voter's registration status, please visithttps://indianavoters.in.gov/.
Check out this video by Women4Change to learn more about how to register to vote in Indiana and how to vote absentee.
The ACLU of Indiana is dedicated to defending individual rights and enhancing and preserving liberties that are guaranteed in the U.S. and Indiana Constitutions and civil rights laws. Established in 1953 as the Indiana Civil Liberties Union (ICLU), the ACLU of Indiana adopted its current name in 2006.
We bring cases against government entities to protect the rights of individuals and groups. The ACLU of Indiana is nonpartisan and does not endorse political candidates.
Women4Change is a nonpartisan, grassroots, collaborative organization whose mission is to equip and mobilize women to engage effectively in political and civic affairs in order to strengthen our democracy and to advocate for the leadership, health, safety, and dignity of all women in Indiana.
Indy Pride, Inc. produces events which educate, honor our history, and celebrate the diversity of the Indianapolis Lesbian, Gay, Bisexual, Transgender, and Queer community. We exist to unite and serve our members and the LGBTQ+ community of Central Indiana through leadership development, educational programs, and community events which achieve inclusivity, equality, strong community connections, and awareness of LGBTQ+ issues.
✍️Note: By registering for this event you are subscribing to each organization's mailing list (Indy Pride, Inc., ACLU of Indiana, and Women4Change). If you do not wish to register for each organization's mailing list, please select "opt-out" during registration.
Get Tickets
Other Events You May Like