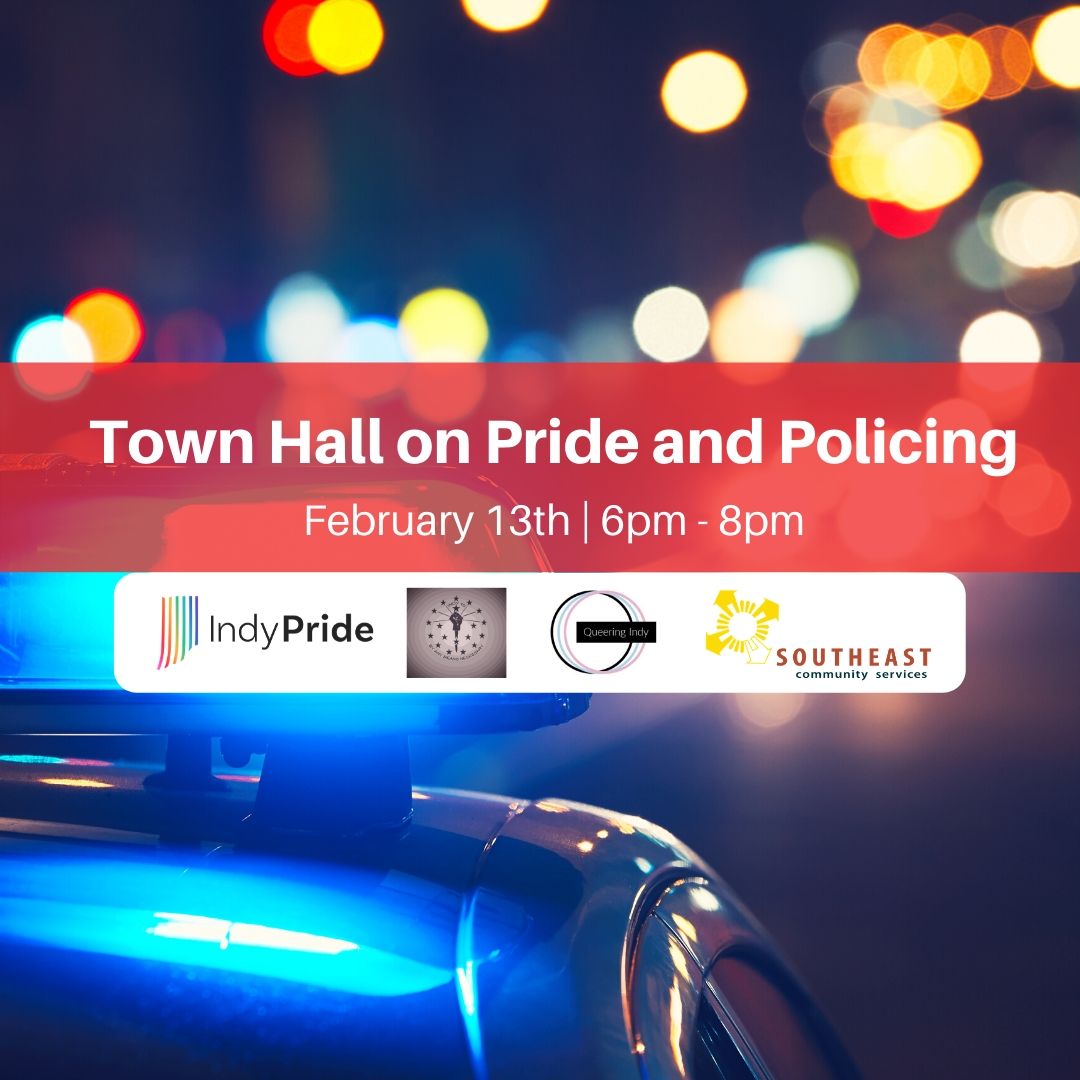 Town Hall on Pride and Policing
Southeast Community Services
February 13, 2020
6:00 pm - 8:00 pm
Indy Pride, Queering Indy, and Indy10 Black Lives Matter invite you to participate in a community conversation on Pride and policing. Ask questions and engage in conversation with local community leaders and activists representing various organizations. This event is hosted by Kit Malone and Gizelle Fletcher and sponsored by Southeast Community Services.
The program will be held in the Southeast Community Services Auditorium on the second floor.
Accessibilty: Elevator access is available and an ASL Interpreter will be provided.
Parking: There is ample parking in the lot where the event is located. Street parking is also available in Fountain Square neighborhood free of charge.
Transportation Support: This event is located on the red line route near Fountain Square Station. Please email Tabitha Barbour, Indy Pride Program Director, at [email protected] if you need a free bus pass to attend the event.
Hosts:
Gizelle Fletcher (she/hers) is the Founder of For Colored Girls Book Club. She received her MFA in Poetry from the University of Florida and enjoys discussing literature, specifically by and about black women and femmes.
Kit Malone (she/hers) is an advocate and educator at the ACLU of Indiana, where she organizes a statewide public outreach campaign to identify transgender advocates and arm them with the tools to educate and engage their communities on the importance of passing comprehensive civil rights protections for all Hoosiers
Panelists:
Chris Handberg (he/him) serves as the Executive Director of Indy Pride, Inc. He previously held the role of Director of Programs at the Domestic Violence Network where he worked to improve the response and prevention of domestic violence and sexual assault in Central Indiana.
Jessica "Jess" Louise (she/hers) is a community advocate with a focus on equity for Black, Brown, and Indigenous women and femmes. Through facilitating workshops, small group trainings, and guest lectures, Jess labors with organizations interested in building their understanding of diverse and inclusionary practices and implementing them.
Riley Bove (they/them) is a 3rd year psychology student at IUPUI. They are a member of the Party for Socialism and Liberation Indianapolis and an organizer for ANSWER Indiana Coalition.
Sa'hara Miller (she/hers) is the Transgender/non-binary program coordinator of "Sophisticated Divas" at BU Wellness Network located in Indianapolis, Indiana.
Satchuel Cole (they/them) is a community organizer with Indy10 Black Lives Matter. Satchuel has been doing community work for over 10 years now. They founded the No Questions Asked Food Pantry, which is a food pantry that eliminates paperwork barriers, Operation Care Kit, which is a monthly give back to support those experiencing homelessness, and the group IMPD Transparency, which works to hold IMPD accountable for their actions. Satchuel was the lead organizer on the Aaron Bailey case and worked directly with the family to get justice for Aaron's murder. They continue to do their work in honor of Aaron so he is not forgotten.
Please RSVP using the tickets button to let us know you'll be there and to get the details on your calendar.
Get Tickets
Other Events You May Like