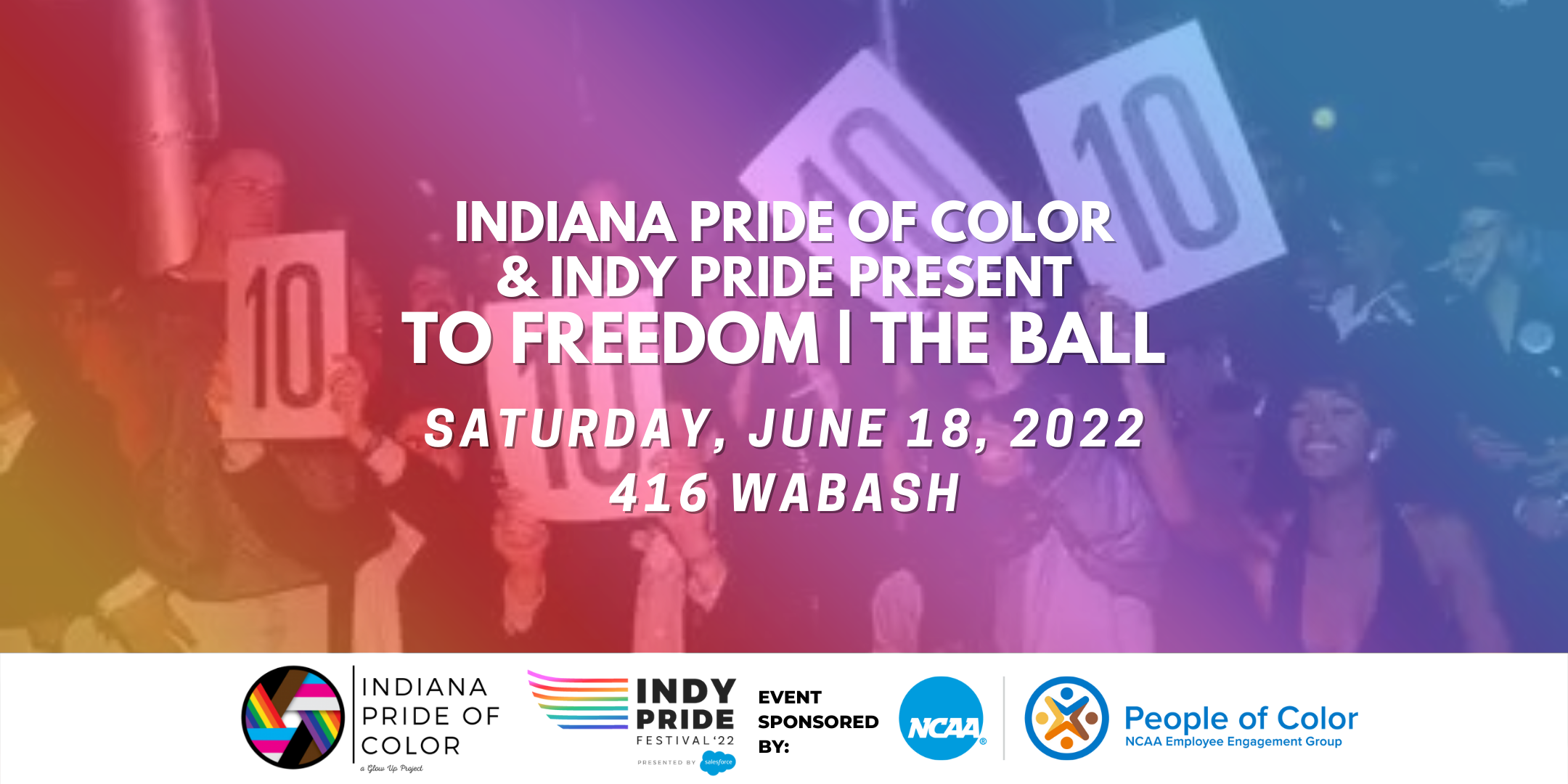 Indiana Pride of Color & Indy Pride present: To Freedom | The Ball
416 Wabash
June 18, 2022
7:00 pm - 11:00 pm
Indiana Pride of Color is coordinating Indianapolis' first Junetheeth celebration designed explicitly for LGBTQ+ Black/African Americans (and their allies) to affirm, celebrate, and reconcile their queer and black identities.
To Freedom | The Ball, a celebration of the ballroom community that pays homage to its culture that also started in the 1960's, will offer activations that serve as vehicles for attendees to get quick (innovative) access to services or care relative to the community (i.e. home testing kits, access to jobs, access to shelter, etc)
*This is a 21+ ticketed event and registration will be required for attendance. Tickets WILL NOT be sold at the door.*
To purchase your tickets CLICK HERE.
Doors Open: 7 PM
LSS Starts: 8 PM
Ball Starts: 9 PM Sharp
Ball Category List
$1000 Best Dressed – The Harlem Renaissance was a pivotal moment in Black Culture that begin in the 1920's. It helped mold what we call BLACK EXCELLENCE, today. Giving an ode to 1920's Fashion bring us elegant, clean, and bold Best Dressed.
(MF Vs. FF Vs. NonBinary)
$1000 OTA Runway – Jean-Michael Basquiat was one of our cultures most revered artists. His art was abstract and colorful and his own. Tonight bring us fashion : abstract, colorful, and your own… with the nasty strut to match!!
(FF Vs Euro Vs American)
$1000 OTA Performance – Alvin Alley & Katherine Dunham had ballet, Lori Ann Gibson & Fatima had Hip Hop, Savion Glover and Gregory Hines had tap! Tonight, in celebration of Black Dance, recreate a look from any production, from any of these choreographers.. And get tens with a move that is an ode to whatever style of dance you've chosen (Oldway & New Way Included)
$500 OTA Sex Siren – Celebrating the African tribes , bring us a sexy interpretation of the Zulu, Maasai, Himba, or Yoruba warriors. Bring a blown up photo of your inspiration as proof!
MF Vs FF
$500 OTA Realness – The Soul Fest use to be one of the biggest Black BBQs of Indianapolis, bringing together black people from all sides of town to celebrate our blackness. Tonight, bring us realness in 90s Attire but there will be some requirements:
Butch Queen In Drag – A Bob (Wigs Only), Bamboo Earrings, and Denim
Fem Queens/Transwomen – Updo, Bamboo Earrings a halter top and tennis skirt.
Transmen – Jean Jumper and a Bucket Kangol
Studs : Baggy Jeans/Shorts and White Tee
BQ Schoolboy : Adidas Tracksuit , and a Book Bag
BQ Executive : Hip Hop Music Executive in A Suit, Graphic Tee, and Adidas (Don't forget your briefcase )
BQ Thug Realness : Baggy Jeans/Shorts and a White Tee and Fitted Hat
BQ Pretty Boy Realness : A Jean Jumper and a Bucket Kangol
All of the categories below are to be brought in red, yellow, or green or a mixture of all 3 :
New Performance
New Runway
New Realness
Sneaker Vs Sneaker (shoe must be 1 of 3 or all 3 colors, can also include black or white)
Bizarre
To purchase your tickets CLICK HERE.
A special THANK YOU to our event sponsors.
Supporting Sponsor
Indy Pride is teaming up with QUIT NOW INDIANA to encourage healthy lifestyles for all members of our community with all Pride events being tobacco-free. For support and resources to quit tobacco, visit them at quitnowindiana.com or call 1-800-QUIT NOW.
———-
We are actively monitoring COVID-19 developments and will continue to do so throughout the coming months. With help from local health officials and our own Health Advisory Committee, Indy Pride will make final determinations on all health protocols closer to each of our planned events.
Get Tickets
Other Events You May Like