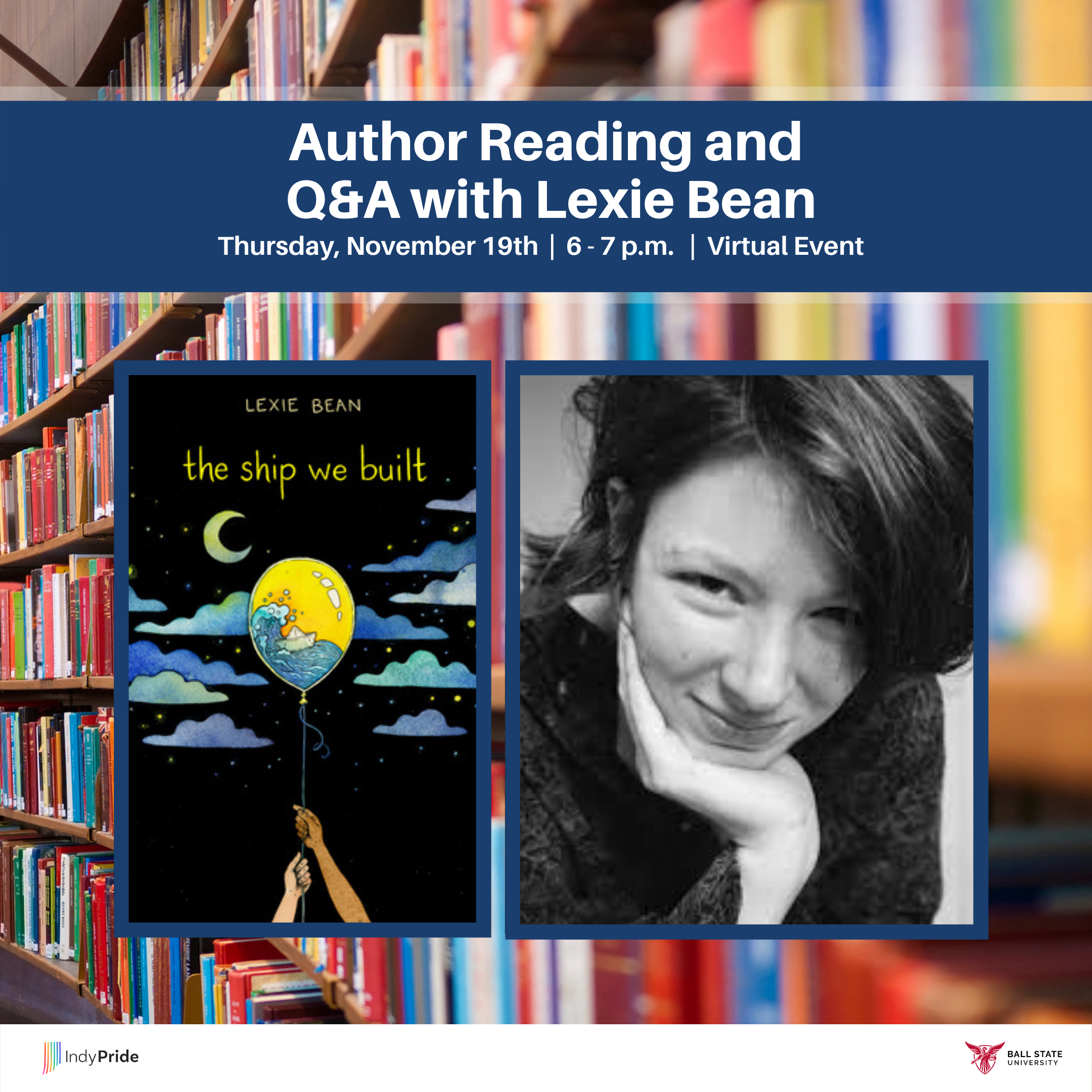 The Ship We Built—Author Reading and Q&A with Lexie Bean
Virtual Event
November 19, 2020
6:00 pm - 7:00 pm
Join us on ? November 19th for an intimate conversation with Lambda Literary Award Finalist, Lexie Bean (they/them), about their debut novel, The Ship We Built
The Ship We Built is a children's middle grade book about a young boy, named Rowan who is discovering his gender identity and writes letters in hopes of finding a community who will accept him. The Ship We Built resonates with younger and older audiences alike.
Kirkus Reviews writes, "Bean vividly and sensitively captures the struggle of being a child who just can't fit in and doesn't understand why. It is an authentic portrayal of childhood pain without an ounce of condescension…this is one of those rare middle-grade books with real adult appeal." Read the full Kirkus review of The Ship We Built.
Indy Pride will provide an opportunity for audience members to ask the author questions about the book. Addi Smith, Director of Education at Indy Pride, will moderate the discussion.
Program Details
6 – 6:45 p.m. Reading & conversation with the author
6:45 – 7 p.m. Live Q&A
Trigger warning for the discussion of the following topics: child abuse, sexual abuse, homophobia, and trauma.
About the Book
Rowan has too many secrets to write down in the pages of a diary. And if he did, he wouldn't want anyone he knows to read them. He understands who he is and what he likes, but it's not safe for others to find out. Now the kids at school say Rowan's too different to spend time with. He's not the "right kind" of girl, and he's not the "right kind" of boy. His mom ignores him. And at night, his dad hurts him in ways he's not ready to talk about yet.
But Rowan discovers another way to share his secrets: letters. Letters he attaches to balloons and releases into the universe, hoping someone new will read them and understand. But when he befriends a classmate who knows what it's like to be lonely and scared, even at home, Rowan realizes that there might already be a person he can trust right by his side(Penguin Random House).
Check out Indy Reads or Irvington Vinyl and Books to purchase your copy of the The Ship We Built.
About the Author
Lexie Bean (they/them) is a queer and trans multimedia artist from the Midwest whose work revolves around themes of bodies, homes, cyclical violence, and LGBTQIA+ identity. Lexie is a Lambda Literary Award Finalist and passionate about creating honest and complex trans narratives that "transition and grow" alongside them. Their writing has been featured in Teen Vogue, Huffington Post, The Feminist Wire, Ms. Magazine, Them, Logo's New Now Next, Bust Magazine, Autostraddle, and more. They serve as a member of the RAINN National Leadership Council. The Ship We Built is their debut novel supported with residencies at the Sundress Academy, Paragraph New York, and the Santa Cruz Bookshop (Penguin Random House).
? Click the "Get Tickets" link to RSVP for the event. The access link will be sent out 30 minutes prior to the start of the event.
? To request an ASL interpreter for this event, please email [email protected]
? Special thanks to Ball State University for sponsoring this event!
Indy Pride is teaming up with QUIT NOW INDIANA to encourage healthy lifestyles for all members of our community with all Pride events being tobacco-free. For support and resources to quit tobacco, visit them at quitnowindiana.com or call 1-800-QUIT NOW.
Get Tickets
Other Events You May Like