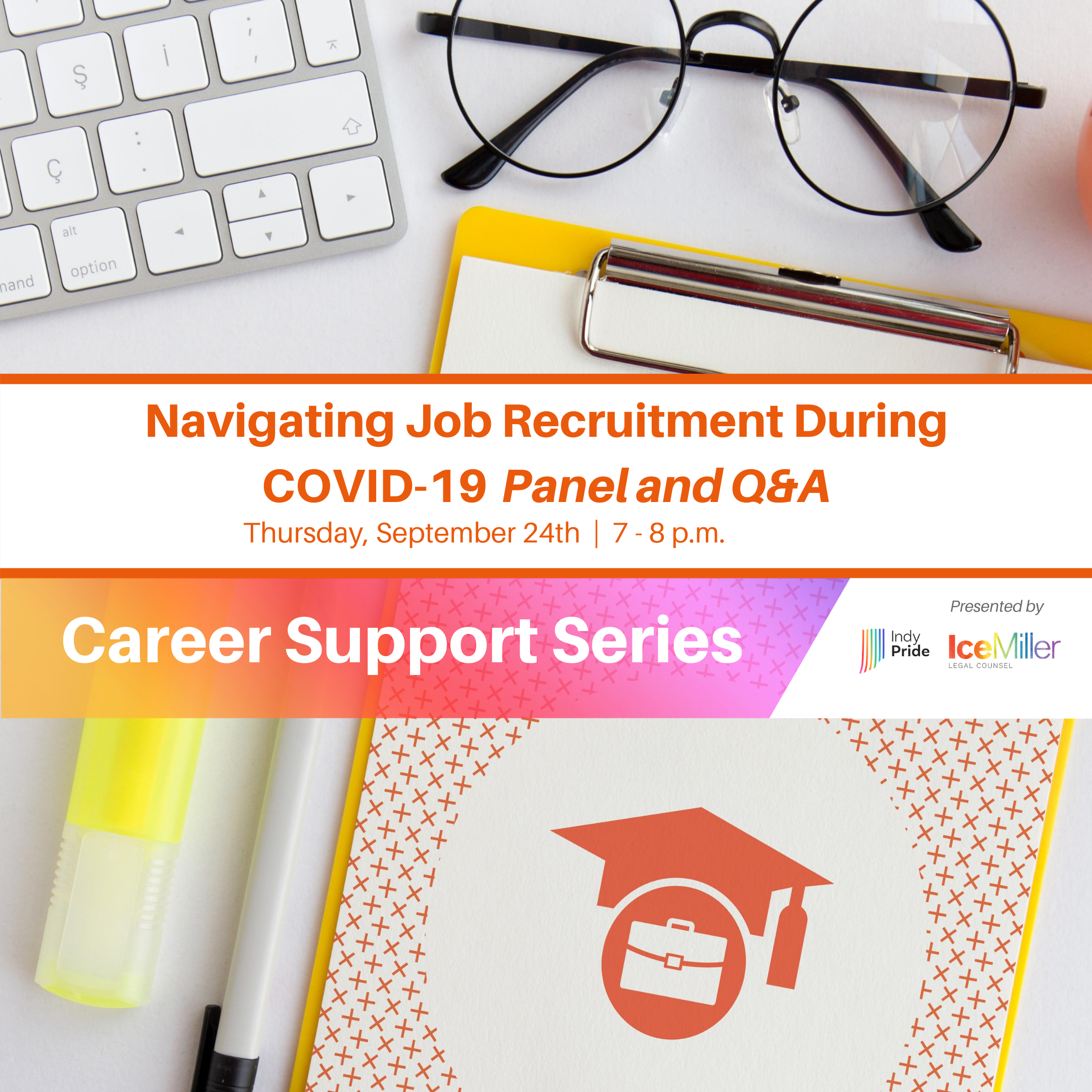 Navigating Job Recruitment During COVID-19 Panel and Q&A
Facebook Live
September 24, 2020
7:00 pm - 8:00 pm
For the final event in our series, we will have a live Q&A with each of our Indy Pride Career Series Presented by Ice Miller presenters.
"Navigating Job Recruitment During COVID-19" Panel Q&A moderated by Arindrajit Roy, Senior HR Analytics Specialist at Cummins.
For the final event in our series, we will have a live Q&A with each of our Career Series presenters. Each panelist will give a brief overview of the topics they discussed during the presentation or workshop and will be prepared to answer any questions you have about the job recruitment process.
? This will be a live-streamed event on the Indy Pride Facebook page. Be sure to like and follow @IndyPride.
? Click the "Get Tickets" button to RSVP for the event.
? ASL interpreters provided for the event series.
? Special thanks to Ice Miller for sponsoring this event!
Meet our Moderator
Arindajit aka Jeet Roy (he/his) Jeet Roy lives Indianapolis with his partner Adam and our two dogs, Murphy and Monty. He is the co-leader for the Indiana Pride ERG chapter within Cummins and continually strives to create an equitable space for everyone. One aspect of his role is recruiting. He is inspired by an influential quote from the poster at Out for Undergraduate conference: "Labels are for jars, not people". He is passionate about his role within Cummins Inc, as a Senior HR Analytics Specialist. This role allows him to explore customer and stakeholder issues and solve them with technology. Indianapolis is home; the LGBT community is family.
Meet our Panelists
Angela Hamilton (she/hers ) is a Federal Investigator with the Indianapolis District Office of the EEOC. She is a native Hoosier and Franklin College graduate. She completed two tours of volunteer service with Peace Corps (Dominican Republic, Guatemala), and has worked for Peace Corps and in the non-profit sector in the U.S. and abroad. Angela is a board member of EEOC Pride, the EEOC's LGBTQ-focused voluntary employee organization.
Ashley Davis (she/hers) has spent the last five years at Ice Miller LLP as part of the Human Resources team where she manages the staff recruiting and development efforts across its seven offices. In addition, she is actively engaged in the Firm's diversity & inclusion work and serves as a member of the Diversity & Inclusion Staff Subcommittee. Last year, Ashley led the Build Your Best Resume and Ace the Interview session at the Indy Pride Career Support Event and is excited to share tips and tricks for navigating the interview process in our new, virtual world.
India Rias-Thompson (she/hers) is a Career Consultant for the Office of Career Development in the School of Liberal Arts at IUPUI. In this role she helps undergraduate and graduate students as well as alumni to find the intersection of their interests, skills, and educational pursuits to make sure they are making the most out of their career opportunities. She is also responsible for employer and alumni engagement.
Shelly Snider (she/hers) is the Assistant Director of Career Services for the Purdue School of Engineering and Technology at IUPUI. Prior to joining IUPUI in 2012, Shelly worked for more than a decade as a Recruiter and Human Resources Manager in both the corporate and non-profit sectors.
Indy Pride is teaming up with QUIT NOW INDIANA to encourage healthy lifestyles for all members of our community with all Pride events being tobacco-free. For support and resources to quit tobacco, visit them at quitnowindiana.com or call 1-800-QUIT-NOW.
Get Tickets
Other Events You May Like