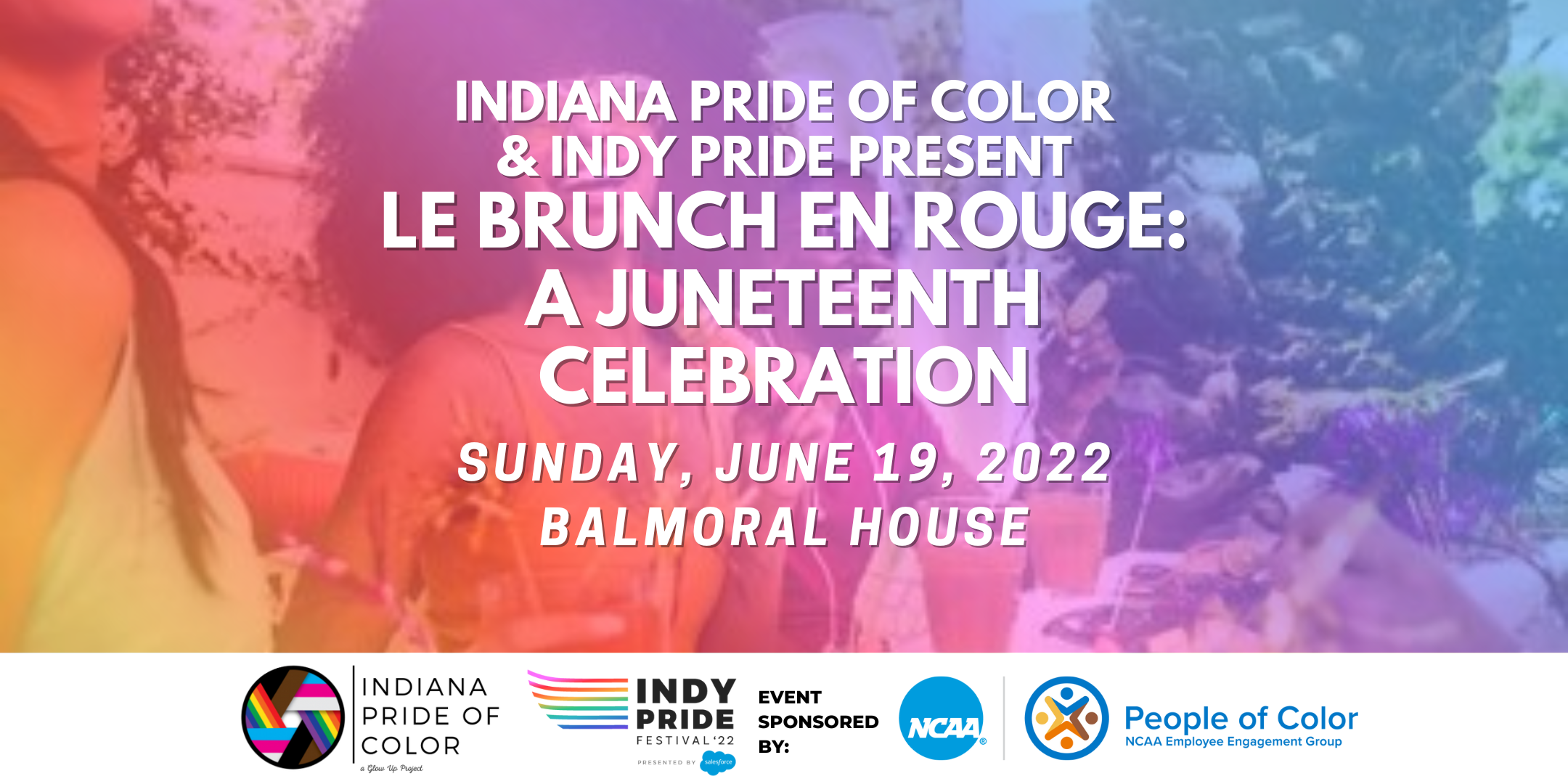 Indiana Pride of Color & Indy Pride present: Le Brunch en Rouge | A Juneteenth Celebration
Balmoral House
June 19, 2022
Indiana Pride of Color is coordinating Indianapolis' first Junetheeth celebration designed explicitly for LGBTQ+ Black/African Americans (and their allies) to affirm, celebrate, and reconcile their queer and black identities.
In celebration of full unapologetic Pride and the Jubilee of Juneteenth, we present to you: Le Brunch En Rouge (The Brunch In Red) an experience that you won't forget! Hosted by the Queen herself, Tia Mirage Hall, Le Brunch En Rouge will include a delicious menu curated by black chefs and sourced from local black farmers, live drag performances honoring the legacy of black drag queens of the Avenue (performers to be announced), vibes spun by our live DJ, and self-care suites throughout the grounds that will allow for full grounding in self-love.
Attire: The Category Is – Dress to Impress (and Express) in Red.
We look forward to affirming, celebrating and reconciling the queer and black identities of our community with you!
*This is a 21+ ticketed event and a ticket will be required for attendance*
Get your tickets by CLICKING HERE!
A special THANK YOU to our event sponsors.
Supporting Sponsor
Indy Pride is teaming up with QUIT NOW INDIANA to encourage healthy lifestyles for all members of our community with all Pride events being tobacco-free. For support and resources to quit tobacco, visit them at quitnowindiana.com or call 1-800-QUIT NOW.
———-
We are actively monitoring COVID-19 developments and will continue to do so throughout the coming months. With help from local health officials and our own Health Advisory Committee, Indy Pride will make final determinations on all health protocols closer to each of our planned events.
Get Tickets
Other Events You May Like