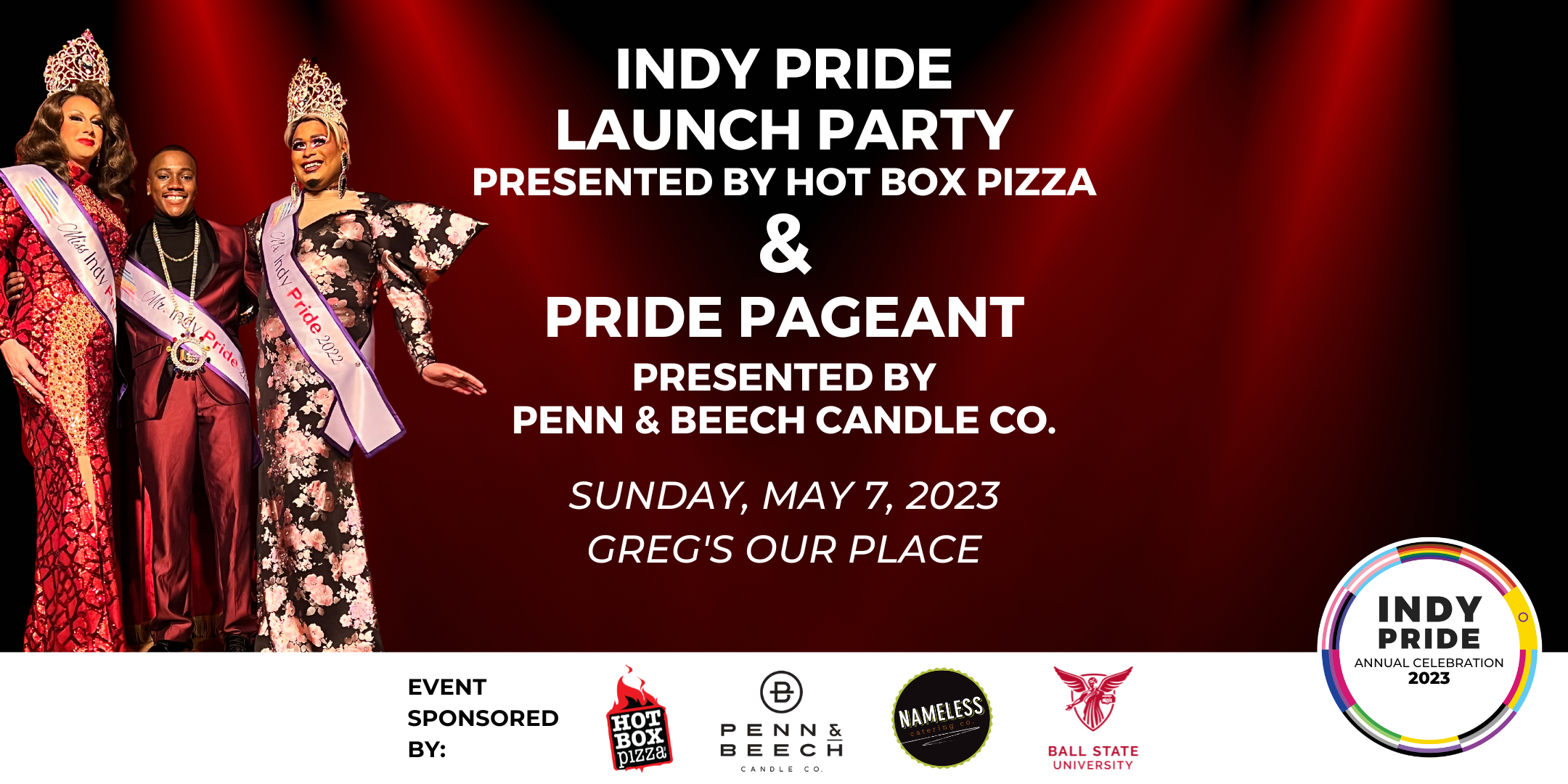 Indy Pride Launch Party presented by Hot Box Pizza & Pride Pageant presented by Penn & Beech Candle Co.
Greg's Our Place
May 7, 2023
5:00 pm - 11:00 pm
Indy Pride Launch Party, presented by Hot Box Pizza
5:00 p.m. – 7:00 p.m.
Join us as we kick off Indy's Pride Celebration festivities beginning at our Indy Pride Launch Party presented by Hot Box Pizza, followed by our Indy Pride Pageant presented by Penn & Beech Candle Co. Grab a drink, some appetizers from our friends at Nameless Catering, and hear about the exciting events planned for our community during May and June as we celebrate Pride! 
Indy Pride Pageant, presented by Penn  & Beech Candle Co.
6:30 p.m. – 11:00 p.m.-ish 
The Indy Pride Pageant presented by Penn and Beech Candle Co. has had a long and prosperous legacy. Originally this was a competition to name a Miss Hoosier 250, a queen to represent the annual pride tricycle race. This contest has since held the names Miss Circle City IN Pride, Circle City IN Pride Ambassadors, and Indy Pride Ambassadors. Due to the increasing acceptance of different gender identities and drag performance styles, in 2017 the binary pageant system was dropped and we shifted to become one of the only non-binary drag pageants in the country. 
As Pride continues to evolve, the contest was renamed Indy Pride Pageant in 2019! Contestants are able to compete in the category in which their stage persona identifies. See more details on the updated categories, scoring, and expectations for participants here: https://indypride.org/home/indy-pride-pageant/
👑  Contestant applications for the pageant are NOW OPEN. CLICK HERE to apply.
Your information will be time-stamped and sent to our Indy Pride Pageant Director who will then send you the official registration form and details for the remainder of your submission. **The first three contestants to register under each category will be accepted, and all others will be placed on a waitlist in order of their time-stamped submission of this form.** 
MJ Banks, Rockii C Sensation, and Brentlee Bich were our incredible Indy Pride Ambassadors for 2022, and we are excited to see the talent that comes from our community in 2023!
 🎟  This event is absolutely FREE to attend, but you must be 21+! CLICK HERE to get the details on your calendar and to receive helpful information about the event.
A special THANK YOU to our event sponsors:
Launch Party Presenting Sponsor
Launch Party Supporting Sponsor
Pageant Presenting Sponsor
Pageant Supporting Sponsor
Indy Pride is teaming up with QUIT NOW INDIANA to encourage healthy lifestyles for all members of our community with all Pride events being tobacco-free. For support and resources to quit tobacco, visit them at quitnowindiana.com or call 1-800-QUIT NOW.
Get Tickets
Other Events You May Like