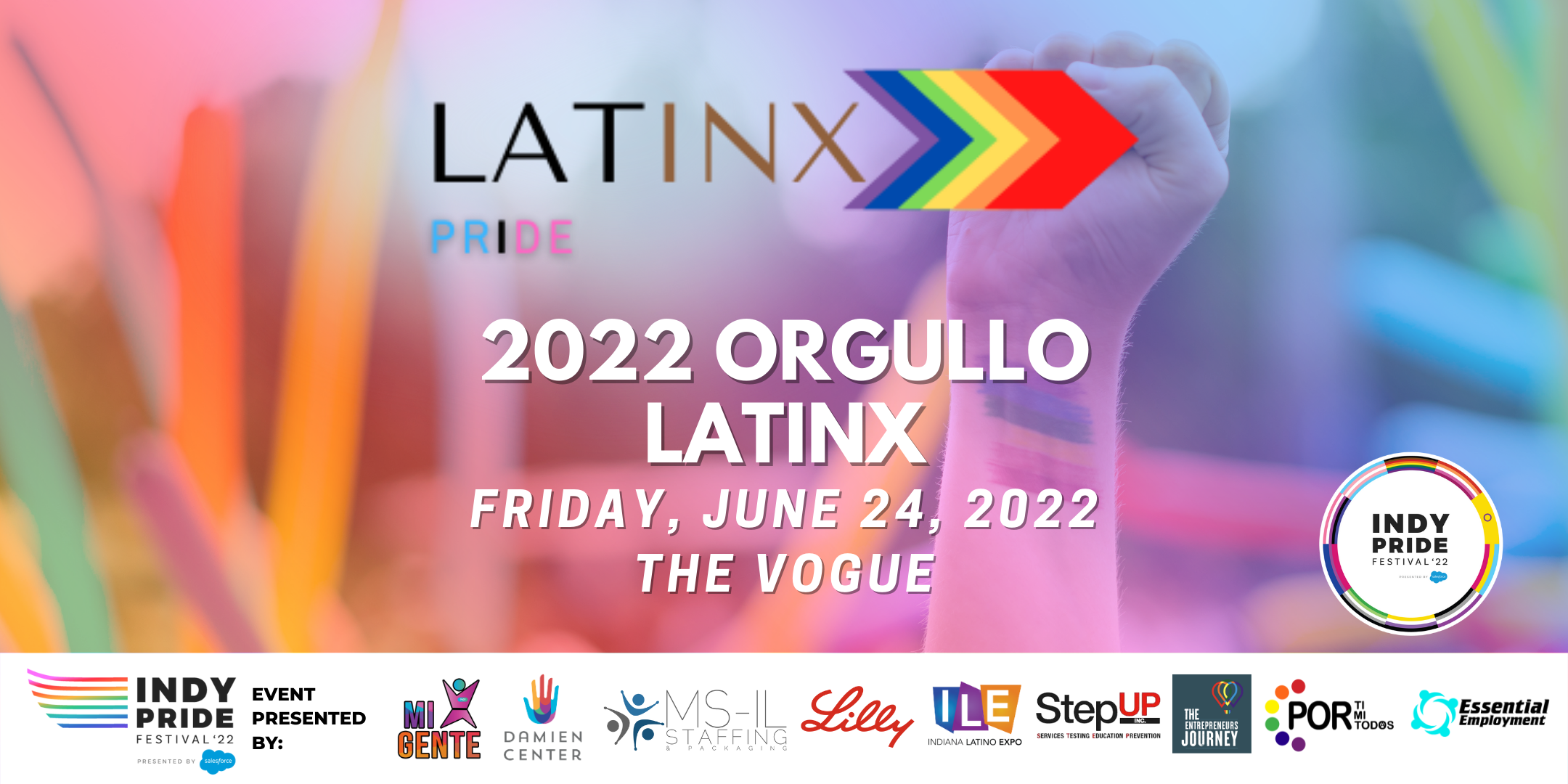 Latinx Pride: 2022 Orgullo Latinx
The Vogue
June 24, 2022
8:00 pm - 1:00 am
Latinx Pride is a community-driven event hosted by Indy Pride. This will be the first Latinx LGBTQ+ Pride event made for the Latinx community by the Latinx community in Indianapolis.
The event will create a space for the community to gather in open celebration and will showcase local Latinx drag artists, and  DJs, while giving space to dance the night away.
At the event, we will also have resources for the community such as free HIV & STI testing, COVID vaccines and rapid tests available, Narcan, as well as harm reduction resources.
Doors open at 8:00 PM
Show starts at 9:00 PM
Open dancing from 11:00 PM – 1:00 AM
 🎟  This event is absolutely FREE to attend, but you must have a ticket! CLICK HERE to get your FREE ticket.
You must be 21+ to attend.
Tickets are limited so it's best to reserve your ticket online.
Latinx Pride: Orgullo Latinx es un evento hecho por la comunidad con el apoyo de Indy Pride. Este será el primer evento latinx LGBTQ+ realizado en la comunidad Latinx de Indiánapolis. Con este evento queremos reunir a la comunidad para poder celebrar abiertamente y poder apoyar a nuestros artistas Latinx locales como nuestro artistas drag y Dj  y  pista abierta para para bailar toda la noche.  El evento también tendrá recursos para la comunidad, como pruebas gratuitas de VIH e ITS, Vacunas para COVID y pruebas rápidas disponiles, tambien tendremos kits de reduccion de daños y Narcan para la comunidad todo gratis.
A special THANK YOU to our event sponsors:
Amigx Sponsors:
Alliado Sponsors:
The Entrepreneur's Journey
MCW
Indy Pride is teaming up with QUIT NOW INDIANA to encourage healthy lifestyles for all members of our community with all Pride events being tobacco-free. For support and resources to quit tobacco, visit them at quitnowindiana.com or call 1-800-QUIT NOW.
———-
We are actively monitoring COVID-19 developments and will continue to do so throughout the coming months. With help from local health officials and our own Health Advisory Committee, Indy Pride will make final determinations on all health protocols closer to each of our planned events.
Other Events You May Like