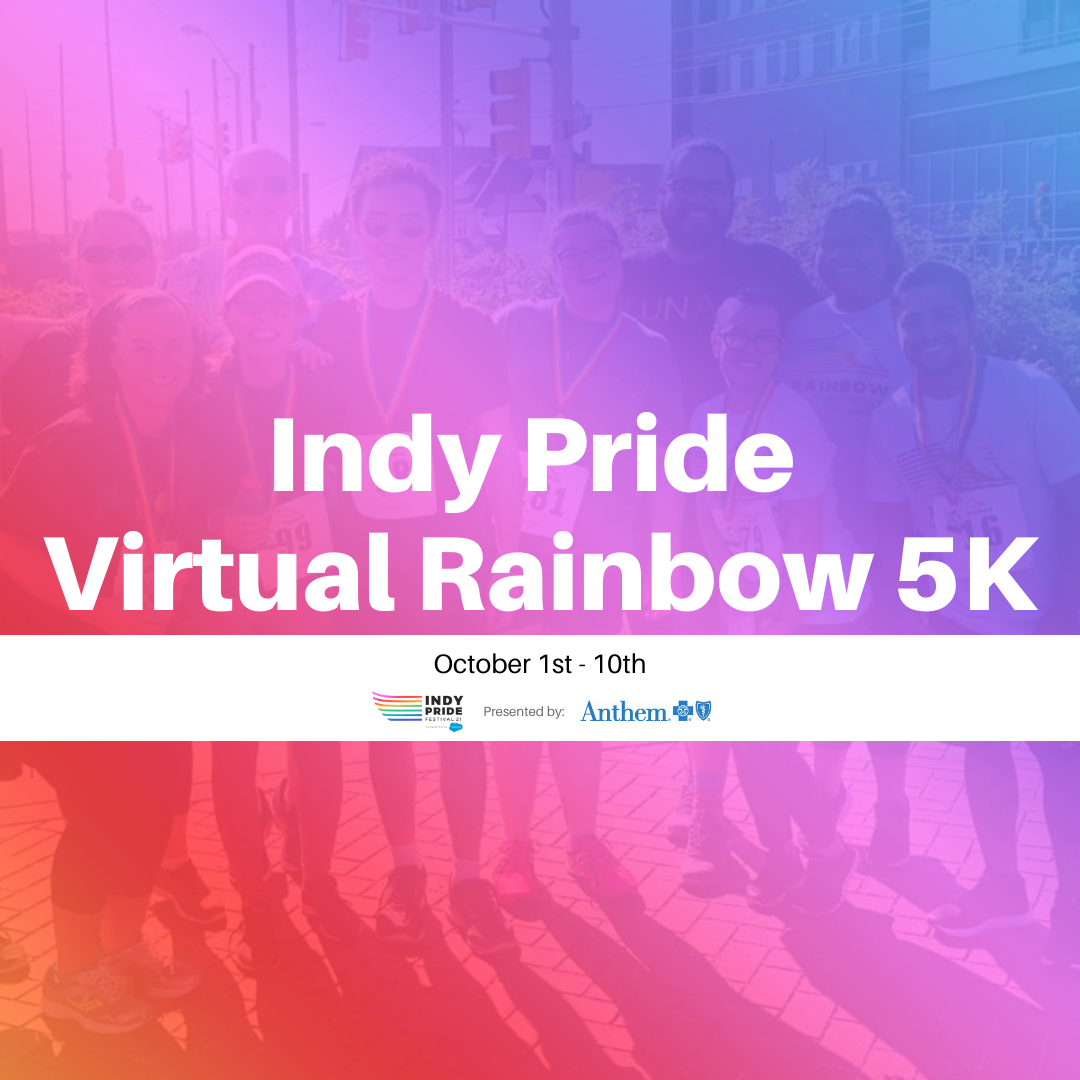 Indy Pride Virtual Rainbow 5k Presented by Anthem
Choose your own route!
October 1, 2021
7:00 am - 11:59 pm
Be a part of the Indy Pride Virtual Rainbow 5K Presented by Anthem happening
October 1st through October 10th!
2021 marks the 10th anniversary of the Rainbow 5k Presented by Anthem! While the focus of this event is to promote wellness and raise money for the local LGBTQ+ Community, for many this is an opportunity to publicly show their Pride with their community! Unique to Indianapolis, this is the only event of its kind specific to the LGBTQ+ Community!
This annual Rainbow 5K Run/Walk is a great event for those trying to beat their personal best and those simply trying to stay active. This is an event where the whole family can join in the fun!
Participants will be able to complete the 5k distance at their own convenience from October 1st – 10th! All registrants will have the option to purchase a shirt with their registration (shirts must be purchased before the order deadline at 11:59pm on September 19th).
Share photos of you, your friends, and your family participating in the Rainbow 5K using
#RainbowRunner2021
and
#Rainbow5k2021
.
————————————
Registration Pricing
→ Virtual Rainbow 5K Registration (with event t-shirt) $35.00 – Deadline 9/19
→ Virtual Rainbow 5K Registration (without event t-shirt) $15.00
Click here to register:
http://getmeregistered.com/RainbowRunForPride
 Shirts are only guaranteed if registered before September 19th
. Shirts will be available for pick up ONLY on 10/2/21 from 10a-12p at Indiana Youth Group (3733 N Meridian St, Indianapolis, IN 46208) and are on a first-come, first-served basis.
Race Time Ranking
Race time ranking will be available on the registration website on October 11, 2021.
The last date to submit your race time is October 10th, 202s at 11:59PM for it to be included in the final race ranking.
————————————
Thank you to our incredible sponsors who made this event possible:
Presenting Sponsor: Anthem
Supporting Sponsors: Adult and Child, Barnes & Thornburg, CH Douglas and Gray, Corteva, Damien Center, Enterprise, Honda Manufacturing of Indiana, Lilly, LUNA Language Services, Meijer, One Cause and Stanley Black & Decker.
————————————
Please follow the Center for Disease Control's (CDC) recommendations for the prevention of the spread of the 2019 Novel Coronavirus Disease (COVID-19) and other communicable diseases. You can read the CDC's guidance at:
https://www.cdc.gov/coronavirus/2019-ncov/index.html
If there is a shelter in place order, follow all guidelines of the order. Participate in the virtual event by using a personal treadmill, and do not run outside in the community during the duration of a shelter in place order.
————————————
Indy Pride supports healthy lifestyle choices and resources for our community members. If you or someone you know would like support or resources to quit tobacco, visit our friends at
www.quitnowindiana.com
or call their hotline at 1-800-QUIT-NOW.
Get Tickets
Other Events You May Like