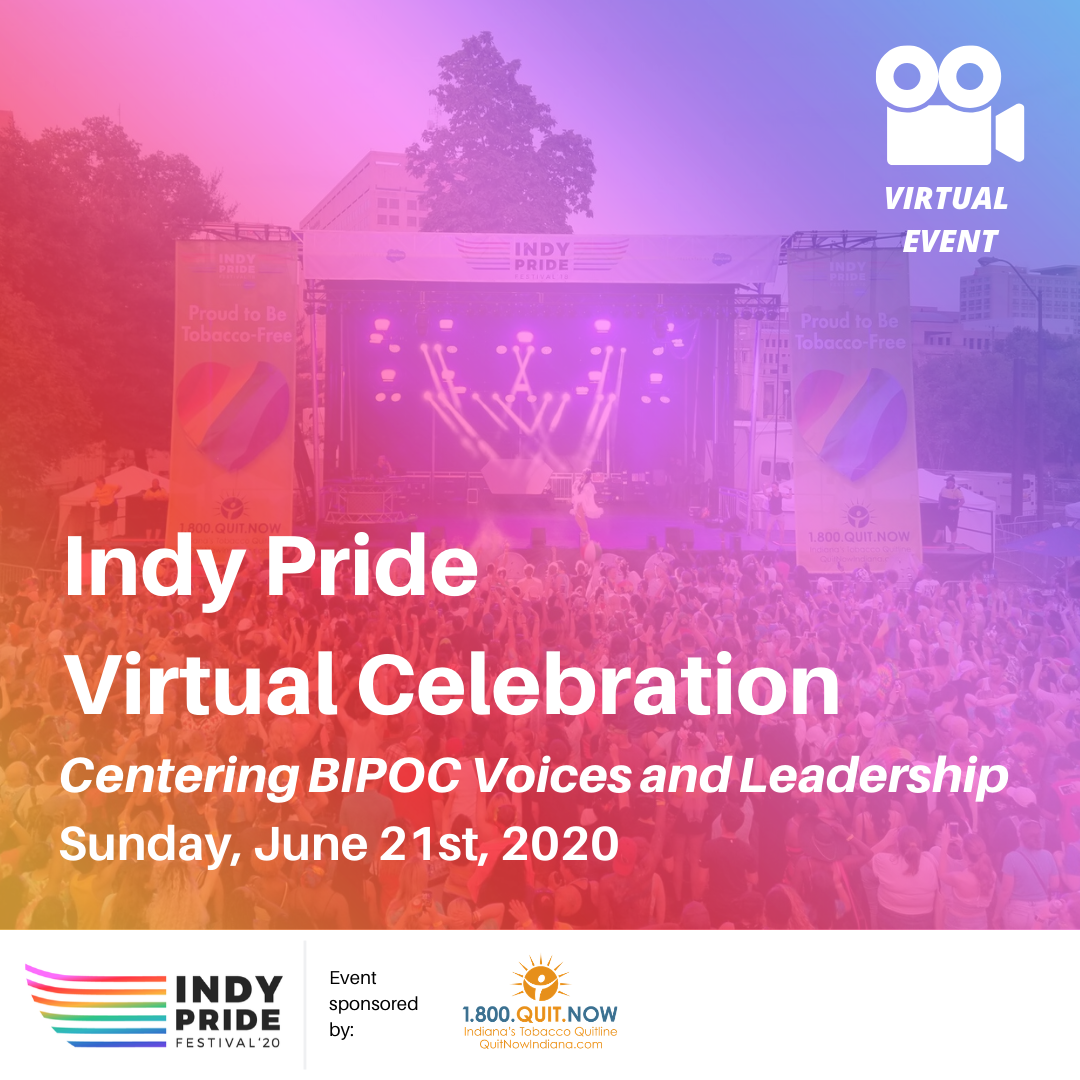 Indy Pride Virtual Celebration
Virtual Event
June 21, 2020
2:00 pm - 9:00 pm
We are working hard to build engaging digital programming that centers BIPOC voices and leadership through our live-streamed channels!
BIPOC stands for Black, Indigenous, and People Of Color.
Indy Pride has intentionally dedicated our 2020 virtual festival to center the voices, experiences, and leadership of BIPOC LGBTQ+ community members. We acknowledge, as a predominantly white institution, we have work to do to better to represent and serve queer, trans, Black, indigenous, and people of color who are members of our larger community.
We believe that Black lives matter. We recognize the first Pride celebration was a protest lead by trans women of color, Marsha P. Johnson and Sylvia Rivera.
We acknowledge the fight against police brutality is a part of the LGBTQ+ movement. We stand in solidarity with those who fight against injustice and shine a light on their work.
Indy Pride hosts Pat Yo Weave, Halle Pino, and Tia Mirage Hall will be taking us through this day of recognition, healing, learning, and celebration as we showcase BIPOC leadership, history, and talent within our community!
? Here is our lineup of programming throughout the day:
? Be sure to follow us on Facebook and subscribe to our YouTube channel! All videos will also be streamed nonstop at IndyPride.org/Live/.
? RSVP using the "Get Tickets" button to receive updates about the program as we begin to finalize our entertainment schedule.
? ASL interpreters will be provided throughout the entire program. 
Indy Pride is teaming up with QUIT NOW INDIANA to encourage healthy lifestyles for all members of our community with all Pride events being tobacco-free. For support and resources to quit tobacco, visit them at quitnowindiana.com or call 1-800-QUIT NOW.
Get Tickets
Other Events You May Like