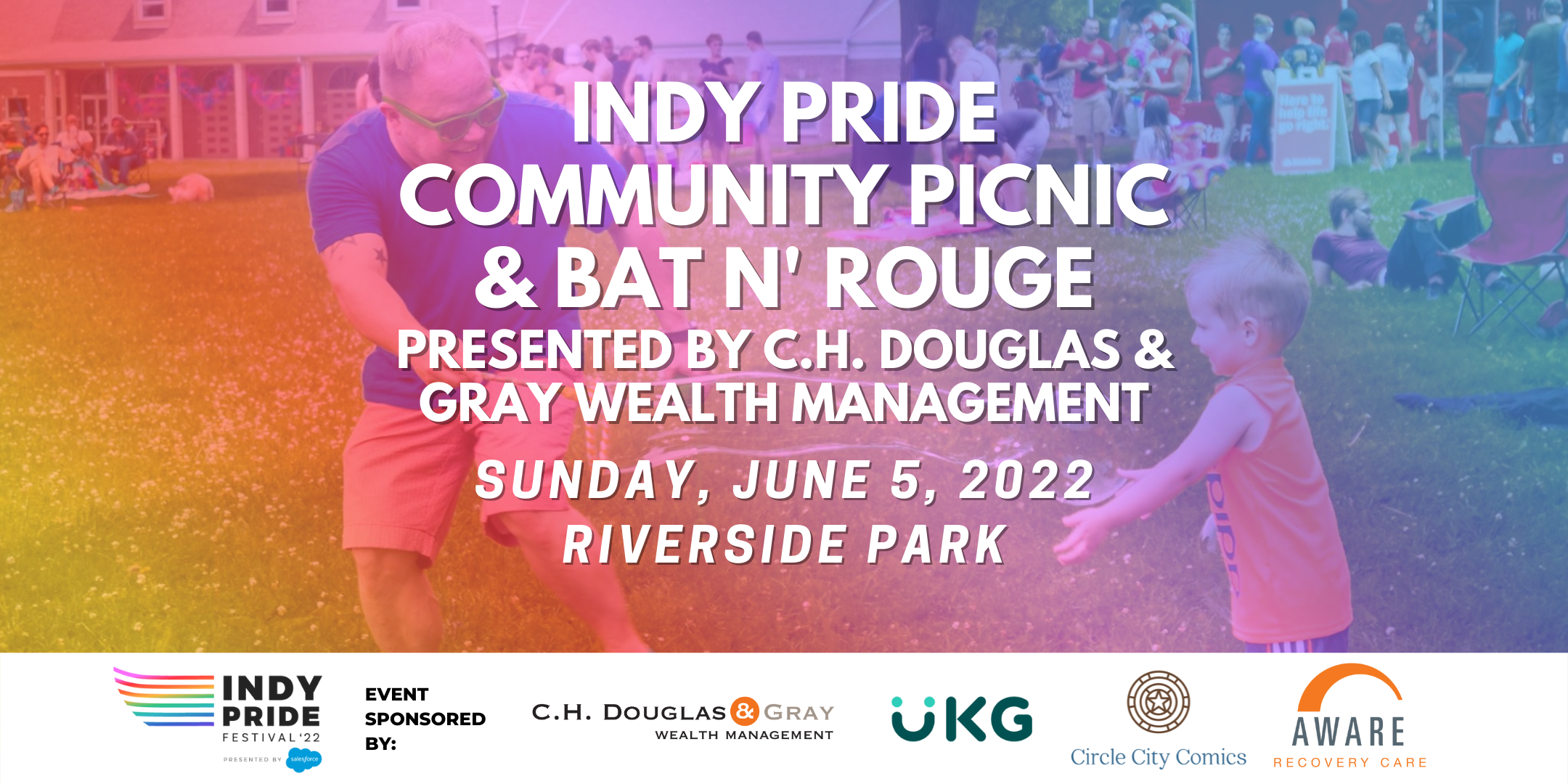 Indy Pride Community Picnic & Bat N' Rouge presented by C.H. Douglas & Gray Wealth Management
Riverside Park
June 5, 2022
12:00 pm - 3:00 pm
In 1982, the first recorded, formal gathering of LGBTQ+ people occurred at the now closed Essex Hotel on Monument Circle. Many attendees wore masks as they entered the dinner due to fears of being outed in the community. The following year, the first Pride Picnic occurred and had over 500 participants. From there, Pride gatherings grew in both size and frequency in Central Indiana, leading us to Indy Pride 2022. 
We honor these heroic pioneers who paved the way of acceptance by formally gathering to build a strong and vibrant LGBTQ+ community in Central Indiana. Annually, Pride week celebrates our community in a picnic and softball game to raise funds for local HIV/AIDS service organizations. 
The 40th Anniversary of Pride Picnics will occur in 2022. Like many years before, the community will gather, eat, connect, and celebrate Pride. The Community Picnic will take place at Riverside Park on June 5, 2022 followed by the Bat N' Rouge softball game, hosted by Indy's Bag Ladies, the oldest HIV/AIDS fundraising group in Indiana. 
SCHEDULE OF EVENTS
🍔   11:00 AM     Picnic begins
⭐️   2:00 PM       Bat N' Rouge softball game begins
This event is absolutely free to attend and attendees of all ages are welcome!
🎟  CLICK HERE and get the event details on your calendar and to let us know how much food to prepare. You can also support Indy Pride here with an optional donation.
A special THANK YOU to our event sponsors:
Presenting Sponsor
C.H. Douglas & Gray Wealth Management
Supporting Sponsors
Indy Pride is teaming up with QUIT NOW INDIANA to encourage healthy lifestyles for all members of our community with all Pride events being tobacco-free. For support and resources to quit tobacco, visit them at quitnowindiana.com or call 1-800-QUIT NOW.
———-
**We are actively monitoring COVID-19 developments and will continue to do so throughout the coming months. With help from local health officials and our own Health Advisory Committee, Indy Pride will make final determinations on all health protocols closer to each of our planned events.
Get Tickets
Other Events You May Like