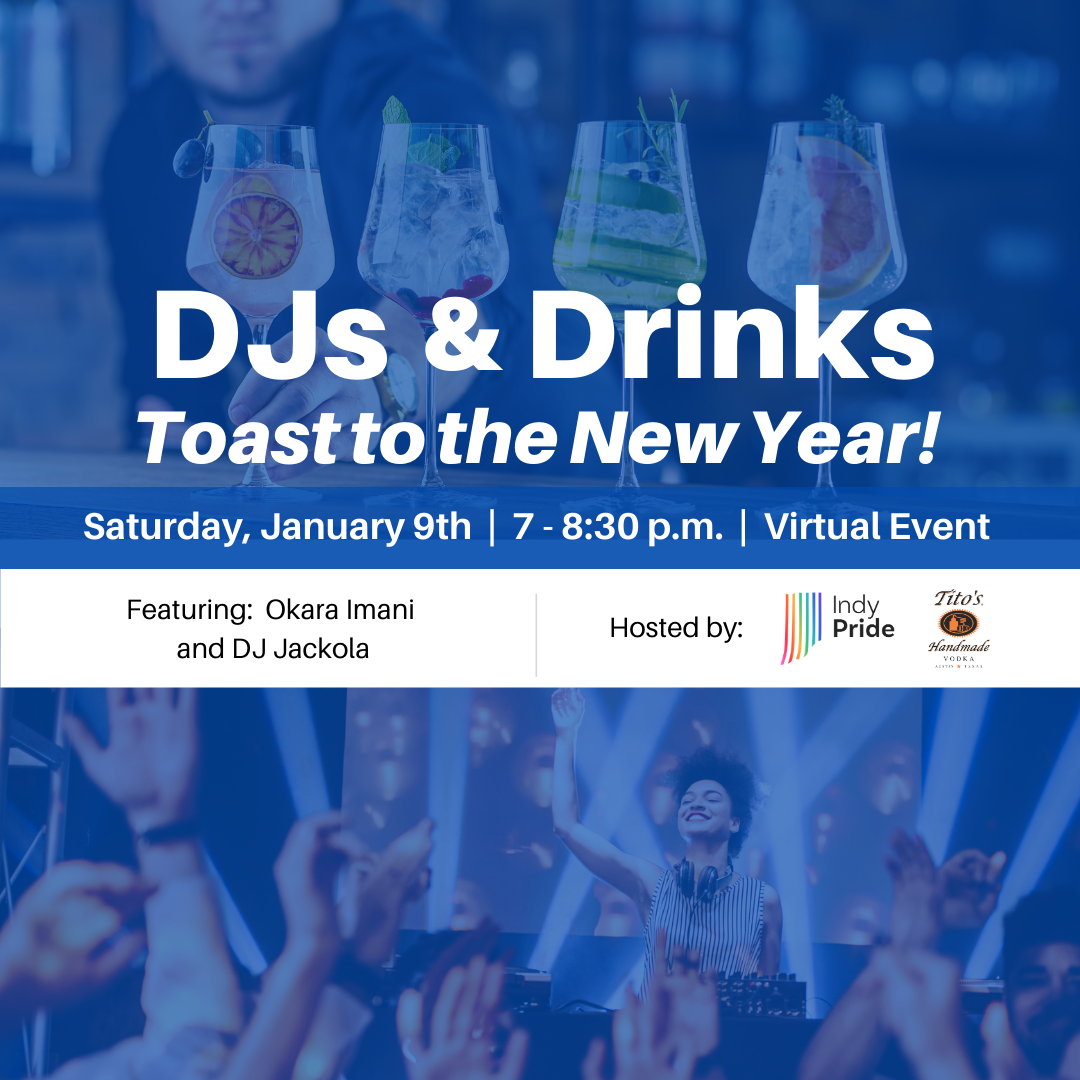 DJs & Drinks: Toast to the New Year
Virtual Event
January 9, 2021
7:00 pm - 8:30 pm
Join Indy Pride as we "Toast to the New Year" at our first DJs & Drinks of 2021.
The New Year brings new ideas, new energy, and new opportunities for all of us to engage in community. Learn about upcoming programming and events for Indy Pride and how you can make the most of the new year.
Our host and bartender ?, Okara Imani, will show us how to make fresh, bubbly cocktails. Then we will head over to our virtual dance party with some fun tunes from ? DJ Jackola.
You will be able to view the program on the Indy Pride Facebook page and/or www.indypride.org/live.
Event Schedule
7:00 – 7:30 p.m. Happy hour with Okara Imani on Facebook Live or www.indypride.org/live
7:30 – 8:30 p.m. Virtual dance party with DJ Jackola hosted at www.indypride.org/live
? Click the "Get Tickets" button to RSVP to get the details on your calendar and the drink recipes sent to your inbox.
? If you would like to request an ASL interpreter for this program, please email [email protected]
ABOUT OKARA IMANI
Okara Imani (she/hers) is a Daughter of the Moon, Libra, vocalist, and writer. She studied music classically for a bachelor's degree and has been raised under the influence of all manner of funk, jazz, alternative, and punk sounds. With these influences, accompanied by the moods, motivations, and moments of her 28 years on Earth, she is so grateful to hear and be heard by you, teach and be taught by you, to inspire and be inspired by you in the hopes that she may serve as your mouthpiece and mirror into self.
ABOUT DJ JACKOLA
Jackola (he/his) has been DJing in the Circle City for over 15 years, especially known for playing house music at nightclubs, VIP, and special events. He has held residencies at several nightclubs across the city, currently playing regularly at Greg's Our Place.
He's opened for big names in dance music and played at festivals all over the country. He has also served as the Indy Pride volunteer Festival Director and helped organize festivals around Indianapolis, such as Broad Ripple Music Fest and WARMfest. He has been involved with Indy Pride for over a decade and currently serves as Indy Pride Festival's Entertainment Director.
You'll always catch a solid groove from Jackola!
Indy Pride supports healthy lifestyle choices and resources for our community members. If you or someone you know would like support or resources to quit tobacco, visit our friends at www.quitnowindiana.com or call their hotline at 1-800-QUIT.
Get Tickets
Other Events You May Like