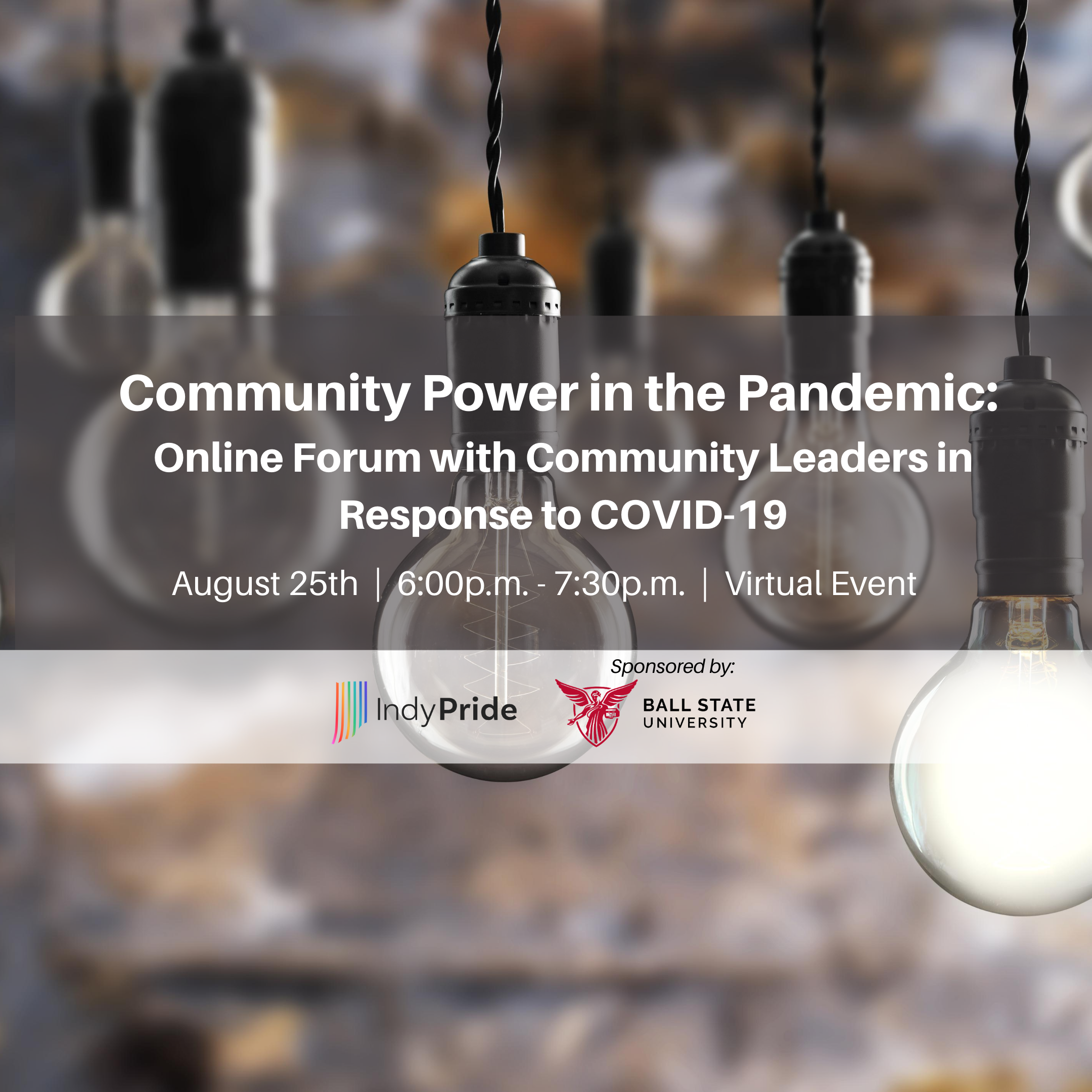 Community Power in the Pandemic: An Online Community Forum
Virtual Event
August 25, 2020
6:00 pm - 7:30 pm
How have LGBTQ+ organizations and leaders responded to the COVID-19 pandemic?
Join us as we discuss and reflect on the COVID-19 pandemic thus far. Learn how LGBTQ+ community leaders have adapted their efforts in the face of the current crisis. This is an opportunity to receive information on resources and services offered, and how you can support their efforts.
This event is an open forum for community members to ask questions, learn how they can access resources and discuss opportunities to support.
The discussion will be moderated by Chris Handberg, Executive Director of Indy Pride, and is a part of our Indy Pride Education Series.
? Click the "Get Tickets" button to RSVP for this event.
? This program will be streamed live on both Facebook, YouTube and the Indy Pride website! Check out our channels and be sure to follow us and subscribe.
? ASL interpreter provided.
? Special thanks to Ball State University for sponsoring this event!
? Featured Panelists:
Angie Martinez (they/theirs) HIV Program Manager at Shalom Health
Dr. Darrin Johnson (he/his) Executive Director at BU Wellness Network
Kim Acoff, (she/hers) Director of Programming at Indiana Youth Group
Panelist Biographies:
Angie Martinez (they/theirs) is a Queer, Latinx individual who has a passion for people and seeks to further help community to bring an end to health and social disparities and bring equitable justice to all. They are the Vice President of community for Indy Pride and a board member for Trinity Haven. Angie is the HIV Program Manager for Shalom Health Care Center, where they and their team are able to help patients through the HIV Continuum of Care, HIV prevention including PrEP and HIV education. Angie wants to help the community break HIV Stigma and help reach the goal of those who want to take control of their sexual health.
Dr. Darrin K. Johnson, Jr. (he/his) is from Charlotte, North Carolina. He is currently the Executive Director at BU Wellness Network, an HIV services organization in Indianapolis, Indiana. Dr. Johnson is a graduate of North Carolina A&T State University with a B.S. in Mass Communication. He holds a Master's degree in Public Administration from Keller Graduate School and Ph.D. in Health Services Research from The University of North Carolina at Charlotte (UNCC). Dr. Johnson has 13 years of experience working in community engagement, HIV prevention, and research. His previous experience comes from Project Coordinator and Education Department Manager positions at Metrolina AIDS Project, Senior Prevention Coordinator at Carolinas CARE Partnership, and Research Director and Professor of Program Evaluation in the School of Social Work at UNCC. Additionally, Dr. Johnson is a Co-Chair of the Marion County Ending the Epidemic Task Force, a faculty member for the Community Health Improvement Initiative (CHII), a leader of Black Treatment Advocates Network (BTAN) Indiana, and an active member of the Xi Sigma Alumni Chapter of Phi Beta Sigma Fraternity, Incorporated.
Kimberly Acoff (she/hers), an Alabama native, moved to Indiana with her family in the fifth grade. She remained in the Fort Wayne area for several years; however, she is now proud to call Indianapolis home. Kimberly spent many years working for the state of Indiana in the Department of Child Services prior to joining Indiana Youth Group (IYG) in July of 2019 as the Director of Programming.
Of her job, Kimberly has said, "It's wonderful to be a part of an organization that has been advocating and serving LGBTQ+ youth since 1987. It's a dream come true for me, and I wake up excited and ready to go to work daily. Here I come, IYG!"
Get Tickets
Other Events You May Like