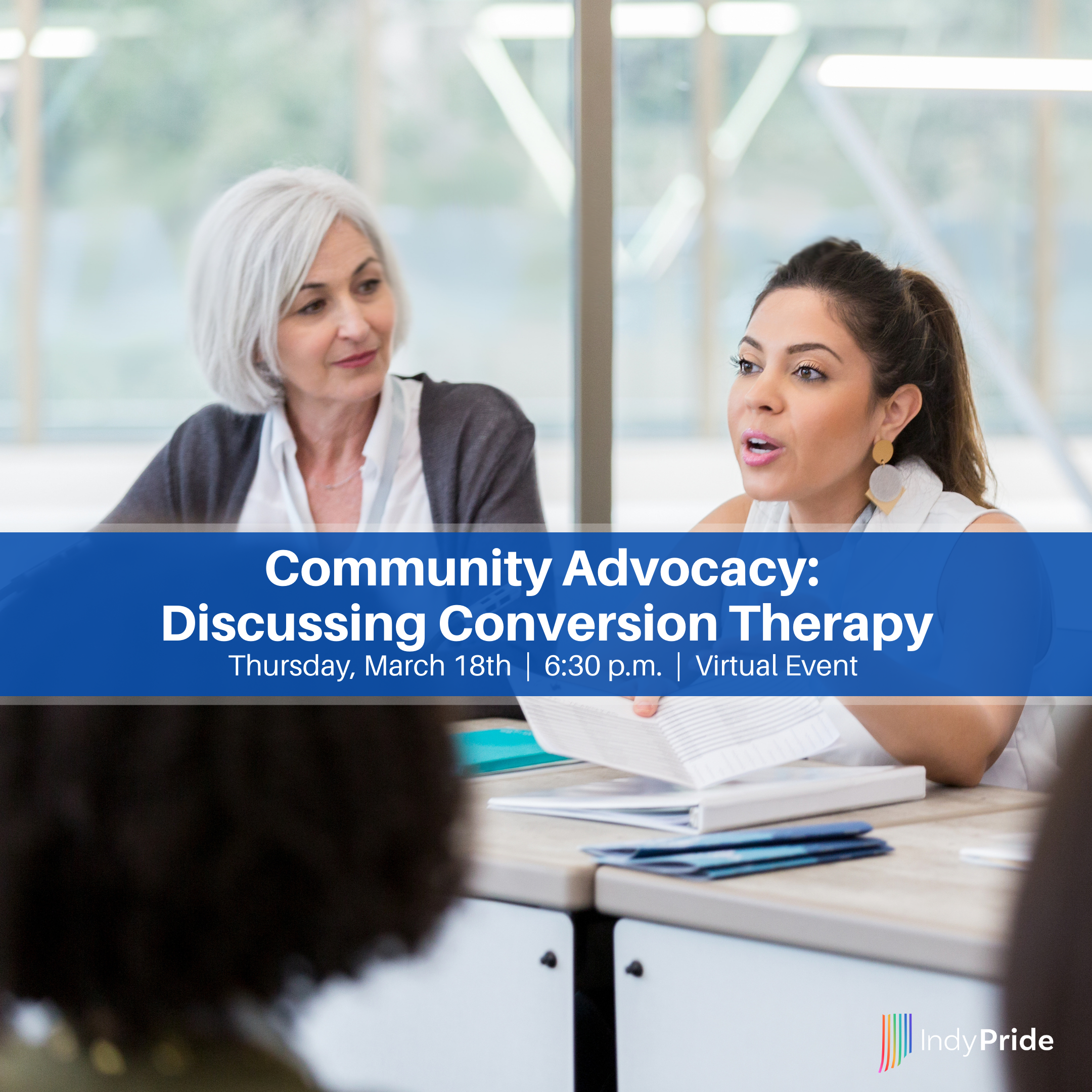 Community Advocacy: Discussing Conversion Therapy
Virtual Event
March 18, 2021
6:30 pm - 7:30 pm
Join the Indy Pride Education Series for for a community discussion on Conversion Therapy featuring a panel of distinguished guests.
Conversion therapy is any practice that attempts to convert a person who identifies as lesbian, gay, bisexual, trans, or queer towards heterosexuality or cisgender identity. The practice is illegal in 20 states however, the practice is still legal in the state of Indiana.
In 1974, the American Psychiatric Association determined that "homosexuality" is not an illness. It has been removed from the Diagnostic and Statistical Manual of Mental Disorders (DSM). Many other professional and medical organizations have denounced the practice of conversion therapy.
This has sparked a conversation in Indiana and nationwide about what exactly conversion therapy is, the history of the practice, and its impact on the LGBTQ community. In January, Senator J. D. Ford, introduced a senate bill in the legislature that, if passed, would ban conversion therapy for people under the age of 18 years old.
This community advocacy discussion will be moderated by Addison Smith (they/she), Director of Education at Indy Pride.
We are grateful for the participation of our distinguished panelists for this event:
V "Rabbit" Childs, M.A. (she/hers)
Senator J. D. Ford (he/his), Indiana District 29
Yaritsa Perez (any pronouns with respect), Youth and Training Specialist at Indiana Youth Group
Patrick Sammon (he/his), Co-Director of CURED Documentary
Have questions that you want the panelists to discuss during the event? Submit your questions here or place them in the comment box during the event.
? RSVP using the "Get Tickets" button to get the details on your calendar!
? You will receive the link to join the event via email 1 hour prior to the event start time. You can also view this event on Indy Pride Facebook Live. Be sure to like Indy Pride on Facebook to receive a notification when we go live.
? If you would like to request an ASL interpreter for the event, please send an email to [email protected]
Indy Pride supports healthy lifestyle choices and resources for our community members. If you or someone you know would like support or resources to quit tobacco, visit our friends at www.quitnowindiana.com or call their hotline at 1-800-QUIT-NOW.
Get Tickets
Other Events You May Like