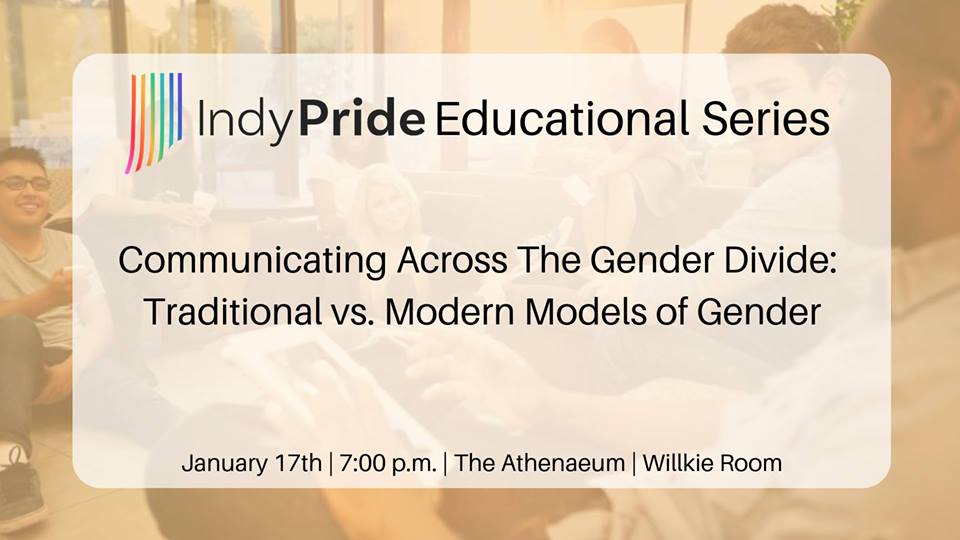 Communicating Across the Gender Divide
Athenaeum
January 17, 2019
7:00 pm - 8:30 pm
Join us on January 17th at The Athenaeum for the first event in our 2019 Indy Pride Educational Series, Communicating Across The Gender Divide: Traditional vs. Modern Models of Gender! 
Ever feel like you're speaking a different language when you're trying to discuss gender or sexuality issues with someone? In many ways, you might well be. The traditional way of thinking of gender in Western Culture, The Gender Binary, is very different from modern gender theory and not understanding these differences can lead to communication difficulties. This lecture will look at both of these modes of thought allowing attendees to form strategies in their own life when they encounter these difficulties. 
*ASL interpreter available upon request. Please email [email protected] to request an interpreter.*
This presentation will be led by Addison Smith, M.M., M.A. 
Addison Smith (they/them/theirs), or just Addi, is a member of the Board of Directors of both Indy Pride and Gender Nexus and an occasional volunteer for Muncie-based ECI Transgender Alliance. They also teach diversity and sensitivity classes focused on gender and sexuality through their own organization, Addison's Agenda: LGBTQ Awareness Education, and write an advice column, Ask Addi, which can be found on Medium.com. When not teaching or volunteering, Addi can be found working at Ball State University or hanging out with their cat, Keowee, at home.
Other Events You May Like