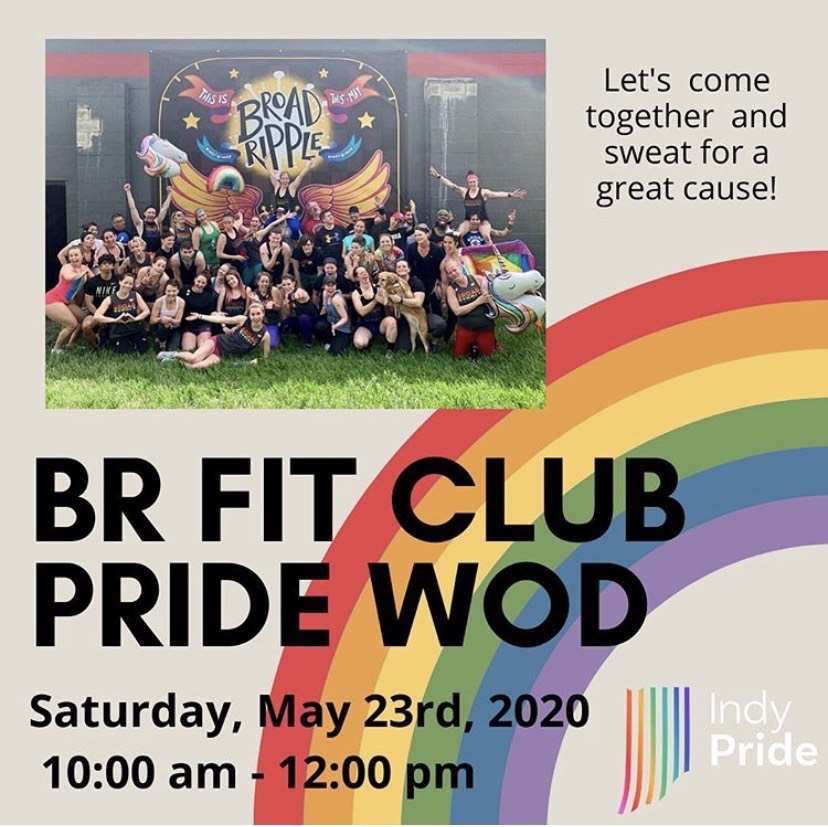 Broad Ripple Fit Club Pride WOD
Broad Ripple Fit Club
May 23, 2020
10:00 am - 12:00 pm
Do you want to sweat for a great cause?! Yes, you do!
Broad Ripple Fit Club and Indy Pride are partnering up to host a fundraising event and workout on Saturday, May 23rd! All proceeds of this event go to support Indy Pride in our mission of embracing our LGBTQ+ community. 
Remember, Pride WOD is open to athletes from all backgrounds, ages, shapes, sizes and skill level. There is NO EXPERIENCE REQUIRED.
✨ WE WANT TO SEE YOU THERE in ALL the COLORS, bedazzled out, with sparkles on… It's going to be a BLAST!
⏰ This event will start at 10:00am – 12:00pm (open gym hours to follow). There will be 3 different workouts so you're going to burn MAJOR calories!
🎟 $35 per person – You can register for the event using the "Get Tickets" button below.
Indy Pride produces events which educate, honor our history, and celebrate the diversity of the Indianapolis Lesbian, Gay, Bisexual, Transgender, and Queer community. Indy Pride exists to unite and serve the LGBTQ+ community of Central Indiana through leadership development, educational programs, and community events which achieve inclusivity, equality, strong community connections, and awareness of LGBTQ+ issues.
Get Tickets
Other Events You May Like