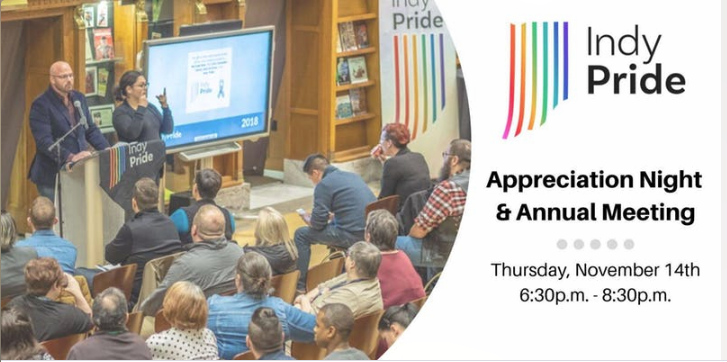 Annual Meeting and Volunteer Recognition
Central Library
November 14, 2019
6:30 pm - 8:30 pm
Join us for an evening of celebration, awards, and meeting the new Indy Pride Board! Awards will be given for Volunteers of the Year, Business Partners of the Year, and inductees will be welcomed into Indy Pride's Hall of Fame!
This year will be special as Central Library and Indy Pride will unveil the Chris Gonzales Collection, a permanent exhibit at Central Library with over 6,000 titles of LGBTQ+ material.
In November 2018, Indy Pride and Central Library announced a partnership to integrate the Chris Gonzalez Library and Archives into Central Library as well as create a permanent LGBTQ+ Exhibit. Over the past year, the staff and volunteers of the Indianapolis Public Library have reviewed, cataloged, and delivered these materials to Central Library to create this unique collection. The Library and Archive is named after Chris Gonzalez, the community activist and founder of Indiana Youth Group who passed away in 1994. For over 30 years, the collection was curated by Michael Bohr, who retired from this position in the summer of 2018.
Indy Pride and Central Library are proud to present this treasure to the community which will be preserve the history, culture, and stories of LGBTQ+ people in a place that is accessible to all.
Other Events You May Like