The Indy Pride 2021 Virtual Career Fair, Presented by GEICO Careers is coming up on November 10th from 11am-1pm. Before the Zoom interviews, it's time to get prepared! Here are just a few tips to help prepare yourself for the Virtual Career Fair.
1.  Update your resume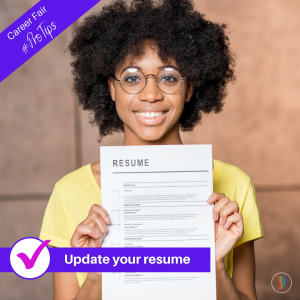 Make sure your resume is length-appropriate and covers your education, work experience, volunteer experience, and any special skills you have. Have an electronic version on hand that you can email directly to recruiters or even share live through a screen sharing option on your video platform.
2.  Do your research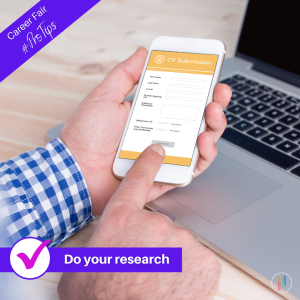 Take some time to get to know some basic information about the company you are interviewing with.  Make sure you know what the company does and what positions they have open.
3.  Develop a list of questions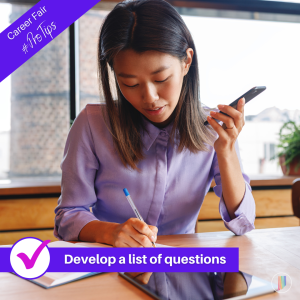 Almost every recruiter will ask you if you have any questions before an interview is over. Make a list of several questions about the company, the position you are applying for, the work culture, etc. so that you're prepared when the time comes.
4. Do a technology practice run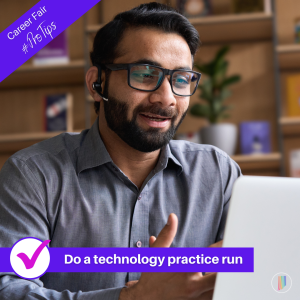 Make sure you know how to access and use the video software. Make sure your camera and microphone are working and that your internet connection is good. If you do not have internet access at home, we suggest trying to access complimentary wifi networks from locations like McDonald's, Starbucks, or possibly your public library.
5.  Create or secure a professional interview space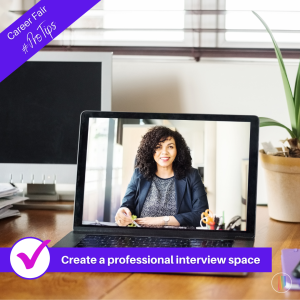 Do your best to make sure that your video interview takes place in a professional space. If you are at home, make sure the area is clutter-free and non-distracting. If in a public space, try to find an area that is quiet with a solid wall behind you to eliminate distractions. You will also want to check your lighting to make sure the space is well lit. If you have adjustable lighting, aim light at your face.
6.  Answer questions using the STAR method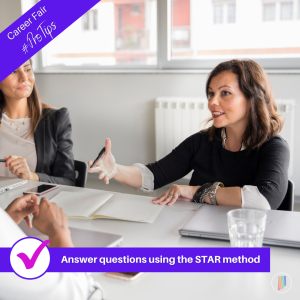 The STAR interview method is a technique you can use to prepare for behavioral and situational interview questions. STAR stands for: situation, task, action, and result. This method will help you prepare clean and concise responses. Learn more about the STAR method here.
7.  Be mindful of nonverbal cues & body language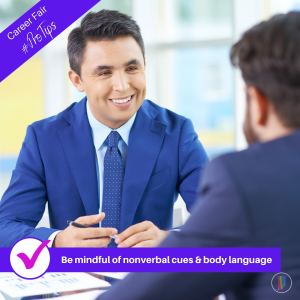 During your interview, be mindful of your nonverbal cues and body language. Sit up straight with your shoulders square and relaxed. Don't touch your face, glasses, hair, etc. Don't talk with your hands and be sure to look at the camera to make "eye contact."
8. Practice your "elevator pitch"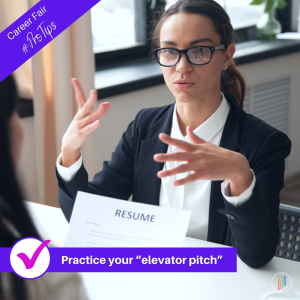 Virtual career fair interviews are only about 15 mins in length so be ready to tell all about yourself in a short timeframe. Although you want to make your pitch concise, be sure to include your name, education, work experience, project work, volunteer activities, and career goals.  Practice running through this "elevator pitch" before the interview to maximize your time on the actual call.
9.  Wear professional attire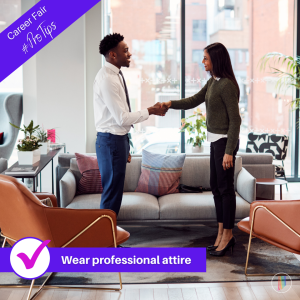 Although you will be meeting virtually, you still want to look professional. There is no such thing as overdressing for a career fair or interview.
10.  Follow up after the career fair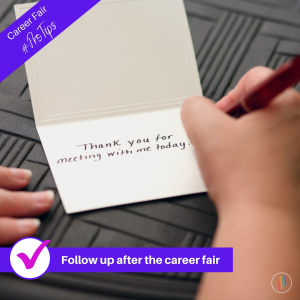 Just because the career fair has ended doesn't mean that your communication with interviewers should end. Connect with recruiters on LinkedIn, send thank you emails, and apply for positions through the company websites. Cultivate an ongoing professional relationship with the recruiters to leave a lasting impression.
Now that you're prepared for a virtual career fair, make sure you are registered! CLICK HERE to get signed up.  We look forward to your participation on November 10th!  Good Luck!
Special thanks to Indy Pride Career Fair Committee Chair, Shelly Snider, for compiling these tips.