Dear Indy Pride Community,
I have started and stopped this letter to you at least five times. There are just no words to describe the weight of the grief, sadness, and anxiety which has become a daily part of our lives.
As LGBTQ+ people, all of us have faced these emotions at different times in our lives. Whether it was the fear of coming out, discrimination because of who we are, being ignored by government officials when we faced the HIV epidemic, the threat of violence for expressing our gender… the list goes on and on. Our lives have rarely been easy, which is why Pride means so much to so many of us.
Pride is the time and space when we can be ourselves without fear or shame. Pride is the time to celebrate the heroes who paved the way for us and the hero who resides in all of us. Pride is the opportunity to build and strengthen our community connections. It is for these reasons that we are equipped to weather this storm, to take care of each other, and to have the strength to ask for help when needed.
For the foreseeable future, Indy Pride will use its social media channels and communication tools to keep you connected to giving opportunities, volunteer opportunities, and resources of sustainability.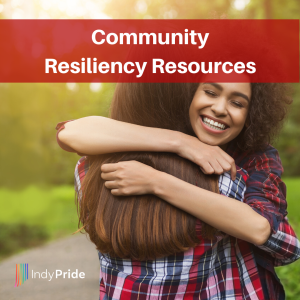 On the future of Pride events in Indianapolis, please know that the staff and Board of Directors are working diligently to ensure the majority of our scheduled Pride Month programs occur in 2020.
For the time being, we do not feel it is appropriate to publicly announce alternate dates for these events. Once we have a better understanding of the longevity of our current public health status, we will publicly announce new dates for all Pride Month events.
If you currently have secured a paid registration for an event, the Indy Pride team will communicate directly with you about updates. 
Finally, Indy Pride, Inc. is a nonprofit organization who relies on the financial support of the community to plan, sustain, and facilitate events and programming for the LGBTQ+ community in Central Indiana. If you have applied, accepted, and paid to participate in a Pride event, you will be automatically registered for the alternate date. If you are on a waiting list, please know we will communicate with you directly and work through that process in an efficient manner.
We ask that, if you are unable to attend the alternate date, that you consider offering your registration fee as a donation to the organization. Your contribution directly impacts our community and Indy Pride's ability to foster relationships and programming to help us all to thrive. I remain available to you if you have any direct questions about an event and your commitment to supporting that event. You can reach me at [email protected]
We appreciate your understanding and support of our community and of Indy Pride,
Chris Handberg
Executive Director
Indy Pride, Inc.